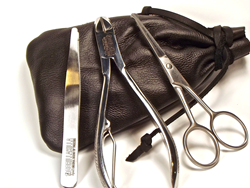 We help men turn that first date into a second date! - Ken Adams, Founder & Head Gorillagorillakilla.com
New York, NY (PRWEB) March 30, 2014
Following the success of the original First Date Kit, GorillaKilla.com proudly announces an update to its grooming kit without raising the price to consumers.
After receiving a positive response here in the United States and internationally (we're looking at you in particular, Switzerland) the founder of GorillaKilla.com, Ken Adams, decided to make the First Date Kit even better. Adams updated the grooming kit by replacing the felt pouch with the new ApeX Leather Travel Pouch while still keeping the price the same – under $50 US. The new pouch is made of top grain leather here in the United States.
"My objective with GorillakIlla.com is to provide the best in men's grooming by offering American Made tools at excellent prices that are both convenient and comfortable to use resulting in turning that first date into a second date," says Adams. "If you need advice on what to do on that date, go to Twitter or Facebook and ask me and I will be happy to get back to you."
The First Date Kit can be purchased by visiting http://gorillakilla.com/first-date-kit-apex.
Gorillakilla.com is the only men's grooming site with a specific focus on good grooming for that critical first date.
What's a first date? It could be with a girl (or a guy – different strokes for different folks), it could be an interview, an initial sales meeting etc. This is the essential grooming to prepare for any of these situations. GorillaKilla.com is committed to helping men who want to turn that first date/interview/meeting into a second date.
And now that spring is here, warmer weather is just around the corner with men everywhere exposing their toes on a regular basis. This is an area that has historically needed a lot of help – especially in cold weather regions. The First Date Grooming Kit can help men from any location fearlessly expose their toes.
About GorillaKilla
Ken Adams founded GorillaKilla to help the hairy male navigate the waters of the modern dating, social, and professional scenes. In the early 2000's, newly single and in NYC, Adams found that expectations on the dating scene had changed. Hairy men were now expected to groom themselves and remove excess hair. After trying waxing, salons, and other treatments, Adams decided to found GorillaKilla to help other men groom themselves through simple, practical methods and products.
GorillaKilla.com launched late 2013 to share how-to videos, informational articles, and other content. The site also features an online store of the best, quality assured male grooming products.
To learn more, visit http://www.GorillaKilla.com.