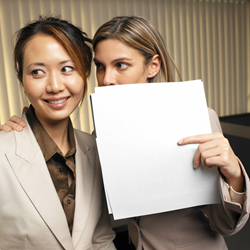 Several times she asked me what I thought she should do and almost seemed to relate to me as if I were her mom.
Anchorage, Alaska (PRWEB) March 30, 2014
Lynne Curry, Ph.D., SPHR(CEO of The Growth Company, Inc.) has over 30 years of experience in management consulting and frequently receives questions from clients regarding situations in the workplace. Today, Dr. Curry releases an article directed toward employers that have become an employee's sounding board for personal drama.
Dr. Curry received an email from a client, "From the beginning of her employment, one of my newest employees took me into her confidence. During her first week, she told me she was pregnant and that she'd kept the secret from her closest friends and her prior employer because she was so afraid of something going wrong. Eight weeks after that she told me she carried a gene for a rare birth defect and was considering aborting her child due to this defect. She initiated these conversations; I simply listened. Several times she asked me what I thought she should do and almost seemed to relate to me as if I were her mom. Although I'm a born-again Christian and would never consider aborting a child, I told her the decision was hers to make and said she had to do what she felt was right."
"She went through with the abortion. Immediately after that, she completely changed and started treating me horribly. Before, she'd respected me and told me how much she could learn from me. Now, she makes disparaging comments about me to others, is cold to me and has even told me -- to my face -- that she can't respect my leadership style."
"I called her on the carpet several times about her behavior, not realizing the confession might have triggered her reaction. She finally told me that the fact that I knew what she'd done had probably changed her view of me. This is all too weird for me to figure out and I'd like some advice."
Read on to find out how Dr. Curry responds…
CLICK HERE to read the full article.
The Growth Company, Inc. is a Human Resource and Management consulting firm specializing in soft skills training, facilitation and mediations as well as investigations, coaching and manual/policy write ups and re-writes. The Growth Company, Inc. was established in 1978 and is one of the longest lasting consulting firms in Alaska.
For further information about The Growth Company or Dr. Lynne Curry click here. The Growth Company also has a Workplace Coach Blog, where Dr. Lynne Curry and other HR professionals post about everyday situations that a manager or supervisor may come across. They provide insight and the correct way to approach and handle these situations.