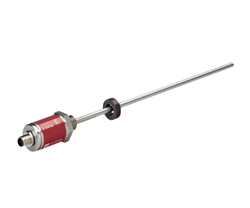 Cary, NC (PRWEB) April 02, 2014
MTS Systems Corp., Sensors Division, has introduced a 316L grade stainless steel version of the company's Temposonics® EH linear positioning sensor for industrial applications. The stainless steel components make this new product ideal for applications involving fluid contact or exposure to sea air and moisture. 316L grade stainless steel exhibits rust resistance far superior to conventional steel and other materials, providing greater protection for both the electronic housing and the sensor rods.
"This product offers a significant advantage to manufacturers of equipment where continual exposure to liquid or moisture is an issue," Matt Hankinson, technical marketing manager with MTS Sensors, explained. "Our customers should be able to reduce maintenance and product replacement concerns due to rust considerably."
The new product was developed specifically for applications such as chemical processing, medical equipment, beverage and food handling, as well as shipbuilding, naval and oil production equipment. The 316L stainless steel EH rod version is extremely corrosion resistant and durable. It offers optimum protection to IP67 and IP69K and can be used at an operating temperature of -40 °C to +75 °C (-40 °F to +167 °F). Measuring lengths between 50 and 2500 mm are possible. The compact housing is equipped with an M12 connector and available with analog, CANopen, SSI and Start-Stop output.
The product will be on display for customers at the Hannover Trade Fair in Germany April 7-11. Attendees are invited to stop by the MTS booth (Hall 9, Stall F79) to learn more.
For more information, please contact: MTS Systems Corp, Sensors Division, 3001 Sheldon Drive, Cary, NC 27513. Phone: (919) 677-0100. E-mail: info(dot)us(at)mtssensors(dot)com or visit their web site at http://www.mtssensors.com.
MTS Sensors, a division of MTS Systems Corp., is the global leader in the development and production of magnetostrictive linear-position and liquid-level sensors. The Sensors Division is continually developing new ways to apply magnetostrictive sensing technology to solve critical applications in a variety of markets around the world. With facilities in the U.S., Germany, Japan and China, MTS Sensors Division is an ISO 9001-2008 certified supplier committed to providing worldwide innovative sensing solutions.