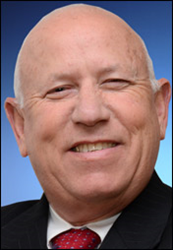 Westchester & Rockland Counties, NY (PRWEB) March 31, 2014
The Westchester Chapter of the Hearing Loss Association of America (HLAA) recently announced that it will honor Robert Glazer, CEO of ENT and Allergy Associates, as its 2014 Health Hero of the Year. Glazer will accept his award at an invitation-only kickoff event in April for the 9th annual Westchester/Rockland Walk4Hearing. The 5K Walk4Hearing will be held on May 17 at FDR State Park in Yorktown Heights, NY.
In addition to Glazer, special guests at the kickoff include emcee Otis Livingston, WCBS-TV sports anchor, and Jacob Landis of "Jacob's Ride." In 2013, Landis, a college student and cochlear implant recipient, received national attention when he rode his bicycle more than 10,000 miles across the U.S., stopping at all 30 Major League Baseball stadiums, to raise funds for pediatric cochlear implants.
"Our Westchester Chapter is delighted to recognize Robert Glazer as this year's Health Hero," noted co-chair David Goldwasser. "His work, and the work of his Practice's otologists, neurotologists, otolaryngologists and audiologists on behalf of hearing health stands as an inspiration for all for our medical and local communities, and Bob serves as a true role model."
Glazer joined ENT and Allergy Associates in December 1997 and has more than 35 years of healthcare administrative experience in finance and operations, information technology and healthcare marketing. As CEO, Glazer is responsible for the overall operation of the practice, focusing attention on physician recruitment, mergers and acquisitions and strategic planning of the organization. In addition to his work at ENT and Allergy Associates, Glazer is an adjunct professor at Pace University's Graduate Program for Public Administration - Health Policy and is a board member of the Westchester County Association.
"I feel privileged and extremely proud to receive this honor from such an important organization," Glazer said. "The Hearing Loss Association of America, and particularly our local Westchester chapter, does so much to help raise awareness of hearing loss and the resultant issues that thousands of our neighbors with hearing impairments have to deal with each day."
The Westchester/Rockland Walk4Hearing, scheduled for May 17 at FDR State Park in Yorktown Heights, NY, is one of 22 coordinated walks around the country sponsored by the Hearing Loss Association of America. The 5K Walk4Hearing, beginning at 11 a.m., supports Jacob's Ride and other programs and services that raise awareness and support for the 48 million Americans with hearing loss.
"We are so excited for our upcoming Walk4Hearing and anticipate it to be our most successful walk yet," stated co-chair Steve Wolfert. "We appreciate the continued support of our volunteers, sponsors and donors for all they have done for our cause."
Registration is available online at http://www.walk4hearing.org. To volunteer, contribute, or find out more about sponsorships, please contact co-chair Steve Wolfert at 914-960-4692 or swolfert(at)optonline(dot)net. Current sponsors include Phonak Hearing Systems and Oticon.
# # #
About Hearing Loss Association of America (HLAA):
HLAA, a 501(c)(3) charitable organization with headquarters in Bethesda, Maryland, has more than 200 chapters throughout the nation and is the voice for people with hearing loss. Founded in 1979 by Howard E. "Rocky" Stone as Self Help for Hard of Hearing People (SHHH), HLAA is the nation's largest consumer advocacy organization of its kind. HLAA publishes the bimonthly Hearing Loss Magazine, holds annual conventions, and hosts online learning with the Hearing Loss Academy. For more information about HLAA go to http://www.hearingloss.org.