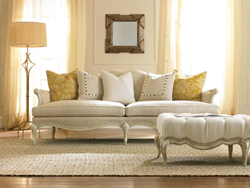 "You won't find better value or a more diverse product line anywhere but Chuck's Furniture." -James Prutilpac
Morgantown, West Virginia (PRWEB) March 28, 2014
Chuck's Furniture has been serving West Virginia for over 45 years and has changed with the times. The company began with a showroom slightly nicer than warehouse space. As time wore on and they grew, they began to offer more customization and higher end options. They now stand firmly in the middle to upper end lines compared with much of their competition, which focuses on lower quality imports. This year looks to be their most exciting yet.
Already this year, Chuck's has added Gat Greek and Lexington to their showroom. Gat Creek is a manufacturer of solid wood furniture located in Berkeley Springs, West Virginia. Lexington is a high quality line that features such broad designs as Tommy Bahama, Henry Link Trading Co. and Sligh.
According to sales manager James Prutilpac, "Everyone here is very excited for the new companies. Our staff loves the idea of carrying a furniture line made in West Virginia. The response before we even put it on our floor was overwhelming. Our customers love the idea too. As for Lexington, they have a vast line with designs and styles for everyone. It's a very classic and sophisticated look."
Over the next two weeks, James will be attending the Ohio Amish furniture market and the High Point Furniture Market in North Carolina. At both markets, they are looking to add furniture that is not available or in short supply in Morgantown.
James says, "At Chuck's we want to be the store where you can find anything. Domestic solid wood furniture is hard to find but we try to make that a focal point. The Amish market is a great place to look for smaller companies that offer great values on quality furniture. As the demand for Amish furniture has grown, their offerings have expanded. There are a few key items I'm looking into this year. I've seen unique gun cabinets that I think would be great for our area. Murphy beds have also made a comeback. Rustic furniture has really done well for us and we are looking to expand that selection."
"At the High Point market, we are looking to expand our mattress selection. As always, we want to do it differently, and better, than our competition. Two bed options that we lack in Morgantown are true organic mattresses and air beds. We'll be looking at both. We are also looking for more unique but affordable upholstery. Two companies we are considering are Schnadig and Caracole. They have very unique looks but are very affordable."
The biggest change this year will be a new store. Details are still limited but it will be a furniture buying experience that northern West Virginia has not seen up to this point. More importantly to consumers, it will be ready this year.
Chuck's Furniture is located in Morgantown, West Virginia and serves north central West Virginia, western Maryland and southwestern Pennsylvania.