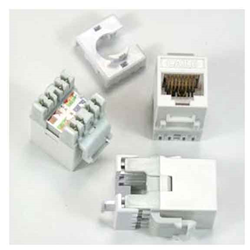 This keystone jack is exclusively developed for high density patch panels. They are the perfect choice for data networks that demand great bandwidth and speed
Hayward, CA (PRWEB) March 29, 2014
SF Cable, a world renowned wholesale distributor of cables and networking solutions, has recently released a new product line of punch down keystone jacks. These punch down keystone modules are available at the company's online store at affordable prices.
The latest collection of SF Cable keystone jacks features easy-to-install and versatile modules that can meet the wiring requirements of growing networks. When requested to highlight the features of keystone jacks, the official spokesperson of SF Cable said, "A keystone module is basically used to mount a range of electrical jacks into a patch panel, surface-mount box, or wall plate. This unit can support low-voltage connectors or jacks. Having a rectangular face and the right dimensions, they ensure easy and quick installation. Based on PCB technology, this keystone jack offers flawless signal quality and exceptional performance."
The high speed RJ45 keystone jack involves 90 degree connection features. "This keystone jack is exclusively developed for high density patch panels. They are the perfect choice for data networks that demand great bandwidth and speed," the company representative further added while elaborating the uses of keystone jacks.
While discussing the compatibility features of RJ45 keystone jacks, the spokesperson said, "Our keystone jack works well with all patch panels, surface mount boxes, and wall plates SF Cable has on offer. They are also compatible with our manufactured Ethernet patch cables.
The SF Cable product collection includes networking cables, home theater accessories, and other cabling solutions. The company claims to offer gold plated, UL listed keystone jacks. For more information about this product, please visit http://www.sfcable.com/1017-SF-06.html.
About SF Cable
SF Cable is recognized as an established wholesale distributor of computer cables, laptop products, security accessories, and home theater items. Since its inception in 2002, the company has been offering quality solutions for varied electronic equipment. It presents more than 8,000 SKUs of components, accessories, and cables designed for a vast assortment of consumer electronics.
The product inventory of SF Cable also includes custom solutions, such as networking cables, fiber optic cables, and modular adapters. The company offers prompt delivery services, competitive prices, lifetime warranty, and extensive product collection to meet its consumers' needs.
Contact Details
SF Cable, Inc.
28300 Industrial Boulevard Suite F
Hayward, CA 94545-4439
Toll-Free: 888-275-8755
Local: 510-264-9988
Fax: 510-264-9989
email: customerservice(at)sfcable(dot)com