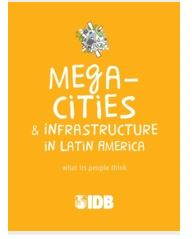 "Latin American megacities are experiencing strong economic growth, presenting huge challenges to policymakers responsible for providing high-quality public infrastructure and services," said Alexandre Meira da Rosa, manager of the IDB's INE sector.
Costa do Sauípe, Brazil (PRWEB) March 28, 2014
Latin Americans living in major cities want more transparency and participation in local governments' decisions on new policies and investments involving urban infrastructure, according to results of a groundbreaking survey released by the Inter-American Development Bank (IDB) today.
The survey involved 5,000 people in Buenos Aires, Mexico City and São Paulo, three megacities with more than 10 million people, as well as in Bogotá and Lima, two capitals likely to reach that category over the next decade.
The survey "Megacities and Infrastructure in Latin America: What its people think" also showed that security has become a top priority for urban dwellers, independent of their socioeconomic standing. For the middle class, public transportation is a major factor affecting quality of life. For poorer households, lack of access to water, sanitation and electricity services continues to be a major obstacle to improving their living conditions.
Follow us on Twitter using @the_IDB