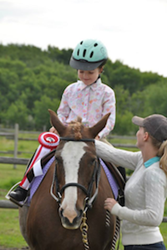 Once again, we are really proud to support the best of the best, says Jean Larivée, CEO of ProChaps. Coaches are leaders both in their community and in their sport.
Montreal, Canada (PRWEB) March 31, 2014
ProChaps is a long time passionate supporter of equestrian talent. "Once again, we are really proud to support the best of the best," says Jean Larivée, CEO of ProChaps. "Coaches are leaders both in their community and in their sport."
It is really important for us to pay them a tribute and name them all. Why is it so important? Because these Instructors and Coaches are the true backbone of the equestrian industry. Because the search for excellence is more important than ever in our society and that this is exactly what these coaches do. Invest their time, expertise and heart into their craft, thus helping thousands of youngsters to aim at excellence and get better at their sport as well as better humans.
In 2014, ProChaps will pursue its mission to encourage equestrian coaches and trainers through all Canada and the USA, looking for alliances and partnerships with associations and federations from all over North America.
"We are all dreaming about it: our horses are full of energy, yet in perfect balance listening to our slightest request, we are riding them effortlessly and gracefully, appearing to the onlooker quiet and relaxed," says Irina Yastrebova, award winning coach. This dream can be attained through dedication, passion and great coaching. ProChaps is now proud to introduce the ProChaps/NCCP Coaching Award recipients:
EXCELLENCE AWARDS
Western Coaching Program - Wendy Johnston
English Coaching Program - Victoria Andrew
Western Evaluator - Barbara Newlands
English Evaluator - Kathy Playdon
Learning Facilitator - Lorraine Hill
Drive Coaching Program - Kathleen Winfield
Program Administration - Wendy Sewell
NATIONAL COACHING AWARDS
Para-Equestrian and Therapeutic Riding
Chelsea Van Lierde
Joan Sopow
Kendra Flynn-Stronach
English Instructor of Beginners
Danielle Gallant
Madeline West
Western Instructor of Beginners
Sarah Andrews
English Level 1/Competition Coach
Alyssa Noonan
Connie Dorsch
Geneviève Dupont
Heather Stauble
Irina Yastrebova
Laura Williams
Melissa Reimche
Western Level 1/Competition Coach
Lisa Wieben
Norma Graham
English Level 2/Competition Coach Specialist
Gina Allan
Janet Adams
Judy Hunter
Krista Pollack
Leslie Hierath
Marie Helen Lessard
Olivia Van den Berg
Rosalind Moskovits
Susanne Rauhut
Western Level 2
Wendy Price
Ruth Ratcliffe
Level 3/High Performance
Eleonore Elstone
Wendy Nelson
Margie Gayford
Marie-Claire Savard
The 7 Excellence Awards and 30 Coaching Awards were handed out at Equine Canada's Convention last February in Winnipeg, Canada.
ABOUT PROCHAPS
When it comes to riding chaps, riders should look for a brand they can trust like ProChaps. ProChaps has created its innovative chaps by developing a cutting edge technology using breathable and waterproof quality leather that is both comfortable and functional for the rider. ProChaps offers three distinct chaps styles – Competition (half chaps for competitors), Fit (half chaps mainly for trekking and leisure riders) and Athletic (classic full chaps). All these chaps let the rider enjoy close contact with the horse. They all feature a bold and stylish design that is flattering to the figure. They fit perfectly from the first time you wear them with their 35 sizes.