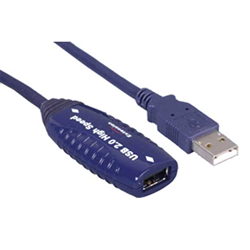 The SF Cable's USB 2.0 active repeater cable is basically an extension cable that can amplify and regenerate the transmitted signal to up to 80 feet
Hayward, CA (PRWEB) March 31, 2014
SF Cable has recently added a unique collection of active repeater cables for USB 2.0 devices in its product inventory. The company, recognized for its quality networking solutions and cable products, has once again revolutionized the cable industry with its value-added product range. These 80ft active repeater cables are designed for USB 2.0 devices to help consumers make full use of their USB equipment.
An Active repeater cable is developed to increase the signal power. It works as a digital signal amplifier. The official representative of SF Cable explained the working of a USB 2.0 active repeater cable as he said, "The SF Cable's USB 2.0 active repeater cable is basically an extension cable that can amplify and regenerate the transmitted signal to up to 80 feet. With this repeater cable, we ensure our consumers are no longer restricted by conventional USB cables. Made of quality materials, this electronic cable is designed to enhance the range and power of a signal and re-transmit it to greater distances."
When asked to elaborate a few features of this product, the spokesperson said, "The maximum data transfer rate of this active repeater cable is 480Mbps. This is a plug and play device that can work without any external power supply. It gets the required power from USB port. Compatible with Windows 98, XP, Vista, and Windows 7, this repeater cable allows you to extend your regular USB 2.0 device to up to 80 feet. This cable can even be used with Mac OS 9.0 and higher versions."
Available at reasonable rates, the USB 2.0 active repeater cables can be purchased from the SF Cable's online store. The company claims to design this cable to enhance the functionality of USB 2.0 equipment. To learn more about this innovative repeater cable, please visit http://www.sfcable.com/search.html?q=USB+2.0+Active+Repeater+Cable.
About SF Cable
SF Cable is recognized as an established wholesale distributor of computer cables, laptop products, security accessories, and home theater items. Since its inception in 2002, the company has been offering quality solutions for varied electronic equipment. It presents more than 8,000 SKUs of components, accessories, and cables designed for a vast assortment of consumer electronics.
The product inventory of SF Cable also includes custom solutions, such as networking cables, fiber optic cables, and modular adapters. The company offers prompt delivery services, competitive prices, lifetime warranty, and extensive product collection to meet its consumers' needs.
Contact Details
SF Cable, Inc.
28300 Industrial Boulevard Suite F
Hayward, CA 94545-4439
Toll-Free: 888-275-8755
Local: 510-264-9988
email: customerservice(at)sfcable(dot)com