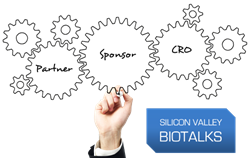 Why don't we try to get the vendor to trust us enough to ask the question, and expect an honest answer, of what can we as sponsors do better?
Sunnyvale, CA (PRWEB) March 31, 2014
Outsourcing experts from Onyx Pharmaceuticals, San Francisco State University (SFSU), BioMarin Pharmaceutical, and Clinovo discussed the topic 'Manage In-house and Outsourced Clinical Trials: Vendor Selection, Project Coordination, and Resource Management' at the eighth Silicon Valley BioTalks.
The event took place on March 19th, 2014 at Onyx Pharmaceuticals in South San Francisco, CA. The panel shared best practices and strategies on how to balance and manage in-house and outsourced clinical trials. Sponsor for this quarterly event Clinovo today posts the audio of the event, available at clinovo.com/biotalks. The recordings contain in-depth insights for vendor selection, project coordination, and resource management.
Now in its eighth session, this Silicon Valley BioTalks panel was composed of Alec Vardy (Senior Director, Clinical Data Management and Clinical Programming at Onyx Pharmaceuticals), Michelle Gray (Instructor in Clinical Design at SFSU, San Francisco State University) and Todd Reul (Associate Director, Clinical Outsourcing and Analytics at BioMarin Pharmaceutical). The discussion was moderated by Kenneth Milstead (Senior Project Manager at Clinovo).
Panelists debated the complex nature of clinical trials and the challenges for pharmaceutical and medical device companies when taking on every aspect of trial design and execution. They balanced benefits and challenges of partnering with Clinical Research Organizations (CROs) to complement their expertise, and provided insight on the different outsourcing models that include the Full Service Provider (FSP) model, the Preferred Provider model, and new emerging hybrid models.
The panelists opened up on their personal experiences and offered key suggestions to the audience. Some discerning comments included procedures on how to best choose your partner, the importance of a solid financial reporting process for accurate value analysis, and how to set up successful outsourcing teams.
Panelist Alec Vardy mused over the importance of 'lessons learned' sessions. "Why not have it a quarter of the way in, a third of the way in, and why don't we try to get the vendor to trust us enough to ask the question, and expect an honest answer, of what can we as sponsors do better?" he explained.
The Silicon Valley BioTalks Linkedin Group allows clinical trial professionals to continue the discussion online with our audience and panelists, as well as suggest topics for future sessions. The Silicon Valley BioTalks is a premier event for pharmaceutical and medical device professionals to build their knowledge and expertise. Since its launch, the Silicon Valley BioTalks has gathered over 600 clinical trials professionals from the Bay Area and beyond. The panel has featured over 30 clinical trials industry experts from leading life sciences companies including Roche, Abbott, Santen Pharmaceutical, Geron, Elan Pharmaceuticals, and Johnson & Johnson.
Contact information
Sophie McCallum
Director of Operations, Clinovo
408-773-6258
sophie.mccallum(at)clinovo(dot)com
About Clinovo:
Clinovo is a technology focused Contract Research Organization (CRO) headquartered in the Silicon Valley. Clinovo streamlines clinical trials for life science companies globally by developing validated, intuitive open source eClinical systems. Clients claim over 50% cost savings using Clinovo's open source Electronic Data Capture (EDC) system ClinCapture, and CDISC Express, the first open source CDISC conversion tool. Services also include Clinical Data Services, Staffing Solutions, and TechTrainings.