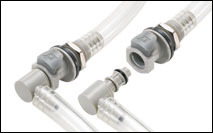 LinkTech's new 50PP Series Couplings offer a greater chemical resistance for superior durability.
Ventura, CA (PRWEB) March 31, 2014
LinkTech's new Dual Tube Couplings, the 42AB Series, and the 50PP Series couplings are now available online at http://www.LinkTechCouplings.com.
LinkTech's new 50PP Series couplings offer a greater chemical resistance for superior durability. They are produced from medical grade gamma sterilizable polypropylene and offer 1/4" flow. The 50PP Series polypropylene couplings offer superior chemical resistance and they are available in both valved and non-valved configurations. All 50PP couplings are compatible with all other 50 Series couplings and many similar industry thumb-latch type couplings.
The 42AB Series couplings offer 3/32" flow capacity and are manufactured from medical grade ABS material. These couplings utilize LinkTech's new dual free flow path technology which allows two separate fluid lines to run simultaneously in one coupling. The thumb-latch release creates an easy one hand disconnection, for a quick disconnect, free rotating coupling. The 42AB Dual Tube couplings interconnect with other similar industry Twin thumb-latch type couplings.
LinkTech's quick couplings are well suited for use on durable and disposable medical equipment, analytical devices and in food and beverage applications. LinkTech has over 1000 styles in standard products, including a full range of threaded, panel mount, in-line and elbow configurations. In addition, LinkTech has the means to produce custom couplings to meet unique application requirements.
For more technical information about the new 50PP Series couplings or the 42AB Series couplings, please contact LinkTech's sales department at 805-339-0055 or by email at csr(at)linktechcouplings(dot)com or visit our website http://www.linktechcouplings.com to view our full line of product series in 3D PDF or CAD files.
About LinkTech Quick Couplings Inc.
LinkTech provides reliable, high quality, cost effective quick coupling solutions and tubing connectors to customers throughout the world. LinkTech offers a wide range of standard and unique custom couplings designed to address specific customer requirements. Because of our commitment to excellence, LinkTech is rapidly becoming the number one choice for quick couplings.
For additional information, please contact: LinkTech Couplings Inc., 3000 Bunsen Ave, Ventura, CA 93003. Phone: 805-339-0055 Fax: 805-512-7130 or visit http://www.linktechcouplings.com.