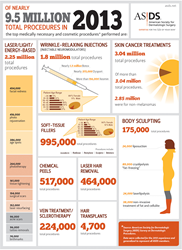 Our members offer a wide range of minimally invasive and non-invasive procedures to help people look and feel their best.
Rolling Meadows, IL (PRWEB) March 29, 2014
Patients are increasingly taking advantage of the cutting-edge techniques and tools dermatologic surgeons use to treat cosmetic concerns ranging from wrinkles and unwanted leg veins to sun-damaged skin or a now-regretted tattoo.
The number of cosmetic procedures performed by members of the American Society for Dermatologic Surgery jumped to nearly 6.5 million in 2013 – an increase of 25 percent over the previous year, the ASDS Survey on Dermatologic Procedures shows.
Wrinkle-relaxing procedures lead the list at 1.8 million treatments, up 20 percent over the 1.5 million procedures in 2012. These include injectable neuromodulators such as Botox, Dysport and Xeomin. Wrinkle-relaxers held the top spot in 2012 as well.
Soft-tissue fillers such as Juvederm, Radiesse, Restylane, Sculptra and Belotero to soften facial creases and add fullness and volume to the lower portion of the face were the second-most popular cosmetic treatment again in 2013. ASDS member dermatologists performed 995,000 such treatments, up nearly 9 percent over the previous year.
Wrinkle-relaxers and soft-tissue fillers also received top satisfaction ratings from the public in the 2013 ASDS Consumer Survey on Cosmetic Dermatologic Procedures. Both treatments received satisfaction ratings of 92 percent.
Other cosmetic treatment totals include:

Chemical peels, 517,000 treatments, up nearly 25 percent over 2012.
Laser hair removal, 464,000 treatments, up nearly 46 percent.
Easing facial redness, 454,000 procedures, up 41 percent.
Easing age spots, 386,000 treatments, up nearly 46 percent.
Phototherapy, 264,000 procedures, up 29 percent.
Vein treatment/sclerotherapy, 224,000, up 53 percent.
Tissue tightening, 161,000 procedures, up 75 percent.
Surgical/traumatic scar removal, 154,000, up 79 percent.
Laser resurfacing, 152,000 treatments, up 85 percent.
Tattoo removal and easing of acne scars, tied at 96,000 treatments each, up 52 percent and 3 percent, respectively.
Cryolipolysis ("fat-freezing"), 89,000 procedures, up 8.5 percent.
Birthmark treatments, 74,000, up nearly 90 percent.
Non-invasive treatment of fat and cellulite, 38,000, down 12 percent.
Liposuction and laserlipolysis, tied at 24,000 treatments each, up 16.5 percent and more than 1,000 percent, respectively.
Hair transplants, 4,700, up nearly 24 percent.
"The results in our recent procedures survey reflect a number of factors," said ASDS President Mitchel P. Goldman, M.D. "Dermatologic surgeons have advanced techniques in cutting-edge technologies. Consumers also are growing increasingly comfortable with cosmetic procedures, and the improving economy is allowing them the leeway to make these discretionary expenditures." ASDS members saw increases in all categories of treatments, including body sculpting and laser/light/energy-based procedures, he noted.
"Our members offer a wide range of minimally invasive and non-invasive procedures to help people look and feel their best," Goldman said. "Whether it's eliminating stubborn fat via laserlipolysis, or having a rejuvenated and refreshed face to present to themselves and the world, people trust dermatologic surgeons with the overall health and beauty of their skin."
More information is available online about cosmetic treatments and the ASDS survey results.
About ASDS
The American Society for Dermatologic Surgery (ASDS) is the largest specialty organization exclusively representing dermatologic surgeons who have unique training and experience to treat the health, function and beauty of your skin. ASDS members are pioneers in the field. Many are involved in the clinical studies that bring popular treatments to revitalize skin and fill and diminish wrinkles to the forefront. Their work has helped create and enhance many of the devices that remove blemishes, hair and fat, and tighten skin. Dermatologic surgeons also are experts in skin cancer prevention, detection and treatment. As the incidence of skin cancer rises, dermatologic surgeons are committed to taking steps to minimize the life-threatening effects of this disease. For more information, visit http://www.asds.net.