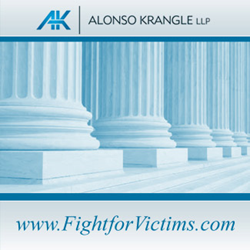 Alonso Krangle LLP is now investigating morcellator cancer lawsuits on behalf of women diagnosed with cancer after undergoing uterine morcellation. Contact the experienced lawyers at Alonso Krangle LLP by calling 1-800-403-6191 or www.FightForVictims.com
New York, NY (PRWEB) April 01, 2014
The widow of a Pennsylvania woman who died from metastatic myleosarcoma has filed a morcellation cancer lawsuit alleging that her death was the result of uterine morcellation. According to the complaint, the use of a morcellator, a device used to remove tissue during hysterectomies and other gynecological producers, caused the seeding of undiagnosed sarcoma throughout the Decedent's peritoneal cavity. The lawsuit, which was filed on March 14, 2014 in the U.S. District Court, Eastern District of Pennsylvania, names Ethicon Inc., Blue Endo, and Lina Medical, among others, as Defendants. (Case No. 14 5557)
According to the lawsuit, the Decedent underwent a minimally-invasive robot-assisted hysterectomy with uterine morcellation on March 6, 2012. Prior to her surgery, there was no evidence of disseminated or metastatic cancer or disease. On March 15, 2012, the Decedent was informed that she had cancer. Less than a year later, on February 2, 2013, the 53-year-old woman died as a result of the disease. The lawsuit alleges that the Decedent was never warned prior to her surgery that morcellation could result in the seeding of an undiagnosed sarcoma throughout her abdominal cavity.
According to a report that aired on ABC World News in December 2013, the use of a power morcellator allows a surgeon to shred tissue, usually fibroids or the uterus, during a laprascopic hysterectomy. The tissue can then be removed through small incisions in the abdomen. Recently, however, morcellation has come under scrutiny amid concerns that the use of the device has the potential to spread undiagnosed cancer throughout the abdominal cavity. According to the ABC report, these concerns have already prompted Massachusetts General Hospital and Brigham and Women's Hospital in Boston, Massachusetts, to revise their guidelines and informed consent policies regarding the procedure.
(abcnews.go.com/Health/boston-hospitals-review-surgical-procedure-cancer-debate/story?id=21268456&singlePage=true, ABC World News December 13, 2013)
According to a report published by The Wall Street Journal last December, concerns surrounding the use of morcellation during hysterectomies increased late last year, after four Boston-area doctors submitted a draft paper to the New England Journal of Medicine calling for a moratorium on morcellation. Among other things, the physicians asserted that a much higher number of women than previously thought have undetected cancer in their fibroids. The team reviewed 10 studies of 30,000 women who had undergone morcellation, and found that nearly 1 in 400 women were found to have uterine sarcoma in the removed tissue.
(online.wsj.com/news/articles/SB10001424052702304173704579264673929862850, The Wall Street Journal, December 18, 2013)
The attorneys of Alonso Krangle LLP are now investigating morcellator cancer lawsuits on behalf of women who were diagnosed with cancer after undergoing uterine morcellation. To learn more about the legal options available to the alleged victims of morcellator cancer, and for a free review of your case, please contact one of the experienced consumer injury lawyers at Alonso Krangle LLP by calling 1-800-403-6191 or visit our website, http://www.FightForVictims.com.
About Alonso Krangle LLP
Andres Alonso and David Krangle, attorneys with almost 40 years of collective legal experience, have focused their law practice on the handling of significant personal injury cases, defective drug and medical device litigation, construction site accidents, nursing home abuse, medical negligence, qui tam/whistleblower actions and consumer fraud cases. A nationwide law firm representing injured victims throughout the U.S., Alonso Krangle LLP is headquartered in Long Island, New York, with offices in New York City, and New Jersey. To discuss filing a morcellator cancer lawsuit, please contact Alonso Krangle LLP at 1-800-403-6191 or visit our website, http://www.FightForVictims.com
For more information about Alonso Krangle LLP or to join the fight and be a part of our team, please contact us at 1-800-403-6191 or visit our website, http://www.FightForVictims.com
Contact:
Alonso Krangle LLP
445 Broad Hollow Road
Suite 205
Melville, New York 11747
Toll-FREE 1-800-403-6191
Tel: 516-350-5555
Fax: 516-350-5554