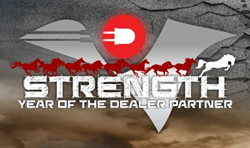 They bring you in as part of the team to a greater degree than I have experienced with any other supplier.
Corona, CA (PRWEB) March 31, 2014
2014 is The Year of the Horse. According to ancient tradition, people born during this time tend have strong communication techniques and they're often leaders in their community. This is how Vantage LED started 11 years ago and continues to operate today. Instead of leading with the product, like most companies, Vantage LED leads with a handshake eager to learn more about their dealer partner, their business and what's most important to them. They listen, create a list, and then address each item by introducing the products and resources that will achieve the dealer partner's goal. This builds Strength. At Vantage LED, this is the Year of the Dealer Partner.
"I believe there may be a handful of manufacturers doing it right when it comes to building a great product, but what separates Vantage LED is the high level of comprehensive hands-on support we offer our dealer partners as well as the simple task of 'listening' to their needs and responding every day," stated Chris Ma, Founder and CEO of Vantage LED.
After a warm welcome to the factory in Corona, CA, dealer partners will more than likely receive a tour from CEO and Founder, Chris Ma. He will take the time to walk them to every employee's office or production station and focuses on their personal success at work and in life, demonstrating the personalized nature of the company. By the end of the tour, dealer partners feel like they're part of the team.
"Not only does Vantage set out to develop a great product with powerful software and support, but they set out to make it their mission to know and understand every dealer partner they work with; that's the culture at Vantage LED. They bring you in as part of the team to a greater degree than I have experienced with any other supplier." –Rick Akers, Akers Signs.
Paul Martin, Chief Marketing Officer at Vantage LED, explains "Our focus is building strength, and we're going to accomplish this by first, engaging our dealer partners, asking questions, and listening. And second, give them real resources they can use in the field as well as on their websites that convey our products features, benefits and real value to their clients."
Scott Hofheins, Project Manager in Dealer Support, states, "I work with dealer partners everyday. The biggest response I get by far is our focus on everybody's individual success; the dealer, end user, and the community."
Vantage LED is in control of their dream of what happens next in the LED sign industry. Beyond their revolutionary products, they envision teamwork, success, and strength with their dealer partners. The people of Vantage LED are motivated by the success of the team; and this includes everyone. From the dealer partners, the vendors, the delivery drivers, and even the cleaning crew, Vantage LED values each individual like family that is involved in the company's success. From the dedication, passion and culture, Vantage LED is truly "Never an Ordinary Experience".
Visit Vantage LED at the International Sign Association Sign Expo in Orlando, FL April 24th-26th. Booth# 319.