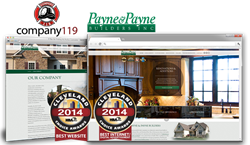 The best part of winning these awards is that we know we made a real impact for our client.
Chardon, OH (PRWEB) April 02, 2014
Company 119, known as one of Northeast Ohio's premier digital marketing organizations, has been recognized at the Cleveland Choice Awards for their achievements during the past year. Working with client Payne & Payne Builders (http://www.payne-payne.com), the company has received two awards during the recently held 2014 ceremony – one for Best Website, and a second award for the Best Internet/Digital Advertisement.
"We couldn't be more excited by this recognition from the Home Builders Association," said Christian Klein, CEO of Company 119. "It was really gratifying to win in more than one category and it shows that the time and effort that we put into every website and digital marketing initiative can produce results for our clients." The work recognized by the Cleveland Choice Awards was based on the website design and advertising created for Payne & Payne Builders, a custom home builder located in the area.
The challenge for Company 119 in working with Payne & Payne was to develop a website that showed not only Payne & Payne's design and build capabilities to homeowners, but their ongoing commitment to their customers. The result of the project is that Payne & Payne's new website is filled with photos of their work, content that reflects their experience and vision, and many touch points for potential customers to learn about the building process as well as talk to Payne & Payne directly. The advertisement designed for the company focused on their customer-centric service and ability to respond to customer needs.
"The best part of winning these awards is that we know we made a real impact for our client," said Klein. "At the end of the day, it is nice to know that people are responding positively to the work that we are doing on the digital platform."
With an appealing, thoughtful design and an advertising strategy that is driving customers to the Payne & Payne site, Company 119 continues to work to develop digital marketing initiatives that increase the visibility and profitability of their clients.
For more information on the Internet marketing services offered by Company 119 or to schedule an interview with Christian Klein, CEO of Company 119, call 440.332.4349 or email info(at)company119(dot)com.