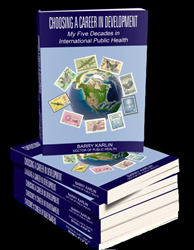 Fairfax, VA (PRWEB) March 31, 2014
MIDEGO PUBLISHING is pleased to announce that Dr. Barry Karlin will visit Washington, DC to promote his new book, Choosing a Career in Development: My Five Decades in International Public Health. Dr. Karlin will lead a session about careers in Global Health at the 2014 Consortium of Universities for Global Health (CUGH) conference in Washington, DC in May 10-12 and participate in a panel discussion about careers in Global Health at the Society for International Development (SID)'s International Health and Nutrition Working group meeting. Both events will provide those in attendance the opportunity to learn about Dr. Karlin's extensive and rich experience working internationally in Global Health for over 50 years and in many diverse countries around the world. He has many great anecdotes to share with colleagues and advice for those considering a career in development or global health.
If you have questions about any of the events above or Dr. Karlin's speaking schedule, please contact info(at)midego(dot)com.
About MIDEGO PUBLISHING
MIDEGO Publishing provides experienced health professionals an outlet to share their expertise, experiences, and advice with others to affect change in the lives of others around the world. Write to info(at)midego(dot)com to find out more about the upcoming authors workshop: "How to Write a Global Health Book in a Weekend."
About MIDEGO, Inc.
Founded in 2005, MIDEGO is a well-established global health consulting company, specialized in professional and organizational effectiveness in the health sector. MIDEGO's mission is to help countries exceed the Millennium Development Goals, hence the name of the company. MIDEGO helps clients improve how they work and save more lives while advancing in their careers. MIDEGO also works with partners to create and implement effective and efficient organizational health development strategies that are led by empowered local leaders. MIDEGO's online training and coaching programs help health professionals realize their career mission by leading the kind of changes they know they need to bring about in their countries. Find out more at http://www.midego.com.