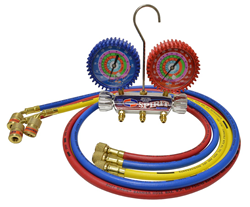 Quality Tools That Go To Work With You.
Fort Lauderdale, Florida (PRWEB) March 31, 2014
Uniweld Products, Inc. is pleased to introduce the Spirit Manifold now packaged with a set of 5 foot EZ Turn™ Anti-Blowback Hoses. Technicians can now have the best of both worlds in this exciting new bundle. The Spirit Manifold provides comfort and control while the EZ Turn™ Hoses prevent refrigerant burns and make it easy to connect to the AC system while under pressure.
When connecting a standard hose nut to an access fitting, the valve core is depressed and the pressure from the system is released, spraying harmful refrigerant directly onto the technician's hand and many times causing finger burns. This extreme pressure pushes back on the nut and causes a large amount of friction between the threads, making the nut very difficult to fully seat against the access fitting and provide unrestricted flow. Many times pliers are required to turn the nut and complete the seal. The EZ Turn™ Anti-Blowback fitting has a thrust bearing that reduces friction so the service hose can be easily connected to the access fitting while under pressure. This becomes extremely useful when working with a high pressure 410A system.
The Spirit Manifold is comprised of a lightweight, extruded aluminum body and easy-to-grip handles for positive control, a double O-ring piston valve for long reliable service, and easy access front hose holder. Additionally, the Spirit Manifold has large, easy-to-read 3-1/8" steel case NPF™ gauges with color-coded protective boots.
The Spirit Manifold will be paired with a set of 5 foot EZ Turn™ Anti-Blowback Hoses to create part number USAM5HAEZ. The value of this bundle will make it an industry favorite and will surely be the go-to tool on the job site. Long service life and superior manufacturing are staples of all of Uniweld's "Quality Tools That Go To Work With You."