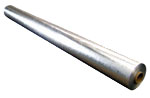 Urbana, IA (PRWEB) March 31, 2014
EcoFoil, a leading manufacturer of reflective insulation products, has recently added a new smaller 500-square foot size of its popular Ultra NT SCIF Barrier product.
The Ultra NT line of products is most commonly used in construction of sensitive compartmentalized information facilities (SCIF). Such facilities house classified information and require the blocking of radio frequencies and/or surveillance.
For the consumer, the Ultra NT radiant barrier products are helpful in reducing interference from AM/FM radio waves, cell phone towers, microwaves, etc. The heavy duty product is manufactured with a single layer of woven polyethylene material bonded to and sandwiched between two highly reflective aluminum surfaces. In addition to its SCIF capabilities, it also blocks up to 97% of radiant heat, and has a Class 2/Class B fire rating to reduce the spread of flames in the event of a fire, making it an excellent choice for a variety of insulating needs.
Product and Sales Specialist Mike Hepker says the new size was developed after hearing from customers wishing to use the Ultra NT radiant barrier product in smaller DIY projects.
"Our 1000 square foot roll of Ultra NT radiant barrier has been a staple for our customers for some time now, due to the benefits it offers, and the ease of installation," said Hepker. "Offering it in a smaller size makes it a more cost-efficient choice for a wider variety of consumers."
EcoFoil can be purchased online at EcoFoil.com and by calling 888-349-3645, where expert sales professional can help guide customers through the process of choosing the right products for their needs.
###
About EcoFoil
EcoFoil® is a leading supplier of radiant barrier and foil bubble insulation. Products are manufactured in the USA and Canada exclusively - we do not sell radiant barrier product imported from Asia. EcoFoil is a division of Clickstop, Inc., located in Urbana, Iowa. Clickstop was founded in 2005 as a manufacturer's representative and distributor of building materials to customers in the Midwest. The company expanded to develop an e-commerce business and now sells EcoFoil direct to customers in all 50 states and internationally through our website, EcoFoil.com. Clickstop has earned an A+ Rating from the Iowa division of the Better Business Bureau. For more information, visit EcoFoil.com.