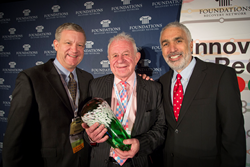 Heroes in Recovery is a grassroots movement intended to remove the social stigma associated with people who are in recovery, and to recognize the heroic effort it takes to overcome obstacles in seeking help.
Nashville, TN (PRWEB) April 02, 2014
Heroes in Recovery (HIR) is proud to announce two recipients of its Lifetime Achievement Award at Foundations Recovery Network's Innovations In Recovery conference at the famed Hotel del Coronado in San Diego, California. Rob Waggener, CEO of Foundations Recovery Network, and David Sheff, following his keynote presentation, presented the prestigious awards to John Southworth and Arlene Rosen whose life work exemplifies the ideals of the Heroes in Recovery movement.
John Southworth learned the power of addiction firsthand. Through his own battle, he came to understand just how dangerous this disease is, so for four decades he has put his personal and professional experience to work helping others. John began his career in 1983 as a licensed DUI evaluator at the Nelson Institute. A year later, he began providing both inpatient and outpatient counseling for groups and individuals. As his experience and certifications grew, John founded Southworth Associates International in 1998. Based in Boise, Idaho, the company provides interventions, consulting and monitoring services worldwide. The year 2014 marks John's 30th year as an interventionist. In that time, he's conducted countless successful interventions, both nationally and internationally, on a professional and public level. He continues to use this experience and knowledge to assist individuals and families through their own personal struggles.
Arlene Rosen was spurred into action when she experienced the personal devastation of losing her son, Michael Rosen, to the disease of addiction. Instead of turning her grief inward, Arlene started a foundation in her son's name and opened a treatment center to honor his memory and help other "Michaels" before it was too late for them. Arlene not only provided funding for the project, she pursued the professional expertise to make the program successful. Already holding master's degree in psychology, she took courses at other treatment facilities and went back to school to study marketing. As a lasting legacy to her son, Michael's House opened its doors as a treatment center in 1989 in Palm Springs, CA and has gone on to help thousands of men and women find lasting recovery. Arlene has served on the national board of directors of the National Council on Alcohol and Drug Dependence (NCADD) for the past 15 years, and the nonprofit foundation named for her son also continues to provide grants to aid in preventing and treating addiction.
Heroes in Recovery is a grassroots movement intended to remove the social stigma associated with people who are in recovery, and to recognize the heroic effort it takes to overcome obstacles in seeking help. According to the National Survey on Drug Use and Health, around 22 million people need substance abuse treatment each year and do not receive it, and according to the Substance Abuse and Mental Health Services Administration, 10 million Americans do not receive needed mental health care. The Heroes in Recovery movement, started by Foundations Recovery Network (FRN), is actively working to break the stigma of addiction and mental illness by educating the community at large and celebrating those on the journey of recovery. They also encourage everyday heroes to share their stories at HeroesInRecovery.com, knowing that each person who does so will encourage others on the road to recovery who may be feeling isolated or alone.
Do you know someone who exemplifies the Heroes in Recovery movement? Nominations for the Heroes in Recovery award can be submitted at http://www.heroesinrecovery.com.
About Foundations Recovery Network:
Headquartered in Nashville, TN, Foundations Recovery Network (FRN) is one of the premier organizations for treating those with co-occurring addiction and mental health disorders. FRN's treatment facilities include Michael's House in Palm Springs, CA; The Canyon in Malibu, CA; La Paloma in Memphis, TN; Black Bear Lodge in Sautee, GA; as well as full-service outpatient treatment centers in Atlanta, GA; Santa Monica, CA; Memphis, TN; Nashville, TN; San Francisco, CA; and Palm Springs, CA.
All Foundations Recovery Network treatment centers practice a system of care that treats co-occurring disorders in a fully integrated approach for lasting recovery.
For more information, please visit http://www.foundationsrecoverynetwork.com.