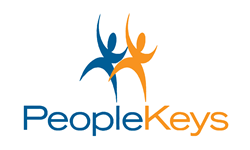 This is especially good news for businesses that emphasize customer service, sales, working closely with clients, training, and teambuilding.
Boardman, OH (PRWEB) March 31, 2014
Ohio-based personality testing and behavioral analysis firm PeopleKeys is no stranger to working with large corporate clients. From United Airlines, Manpower, Celtic Health Care, AT &T, and more, they have consistently partnered with companies looking to incorporate innovative strategies for using an understanding of human behavior to improve sales, customer service, inter-office morale, and productivity. Beginning this April, PeopleKeys plans to launch a new business model intended to expand and diversify their corporate client base even further, by offering customizable subscription packages specifically targeted to corporations at the head of a large franchise network.
The new model will allow franchise parent companies to negotiate bulk pricing deals with PeopleKeys for all of their branches. The parent companies will then market PeopleKeys services to all of their branches, who then would have the option to individually opt in to the program. Branches that choose to opt in will receive unlimited interoffice access to PeopleKeys DISC personality tests and reports for a deeply discounted monthly fee.
This new franchise bulk discount model was pioneered through the relationship PeopleKeys has forged with real estate giant Keller Williams. Due to the success of the Keller Williams subscription model, PeopleKeys will now be inviting all corporate head offices to negotiate similar packages on behalf of their franchises. Also included in the packages are bulk discounts on any other specialized PeopleKeys products or trainings that individual offices would like to purchase outside of the included DISC reports and personality tests.
This is especially good news for businesses that emphasize customer service, sales, working closely with clients, training, and teambuilding. The DISC model used by PeopleKeys in their tests and reports is a method of using a fundamental understanding of personality type in order to forge better communication strategies, resolve conflicts, increase productivity, and understand the reasons why people behave the way they do. PeopleKeys DISC reports and personality tests can be used to better understand your own personality style and that of your office team. PeopleKeys accounts will also be included in the packages, giving branches access to a wide variety of tools and assessments that can be used for hiring, sales, training, and more.
There are many distinct advantages to owning a franchise. One of the major benefits is name recognition. Another is that you have the negotiating power of the corporate office behind you. The new franchise bulk pricing model from PeopleKeys is a prime example of the way that franchises can benefit with their association with their parent company. For more information on negotiating franchise package deals with PeopleKeys, call 1-800-779-3472 or write to customerservice(at)peoplekeys(dot)com. For more information on PeopleKeys and their DISC behavioral solutions, browse their online catalog at peoplekeys.com.
About PeopleKeys
PeopleKeys has been working in the field of behavioral analysis for over 25 years. Their products use DISC personality testing tools and theories of human behavior to help clients make improvements in their lives—anything from strengthening personal relationships to increasing productivity in the workplace. Product translations are available in a wide variety of languages, making PeopleKeys the international leader for helping individuals unlock their potential. For more information about PeopleKeys and their DISC solutions, please contact Marketing Manager Kaitlyn Miller at 330-599-5580 x113.