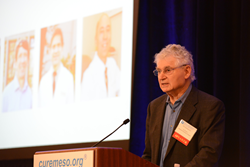 All conference content is available at: www.curemeso.org/symposium.
Alexandria, VA (PRWEB) March 30, 2014
Today, the Mesothelioma Applied Research Foundation (Meso Foundation) made available videos of sessions and presentations from its 2014 International Symposium on Malignant Mesothelioma. The videos feature an array of mesothelioma experts, including doctors, researchers, nurses, patients, and caregivers from across the globe. Session topics encompass science and medical aspects of mesothelioma, as well as community-focused discussions.
All conference content is available at: http://www.curemeso.org/symposium.
Some of the available topics include discussions specific to mesothelioma on:

chemo brain
post-surgical recovery
radiation oncology
becoming an empowered patient
mesothelioma survivorship
chemotherapy
the state of medical research
pulmonary health
cancer stem cells
early detection
The videos released include speeches by the 2014 Meso Foundation award receipients. Among these, Congresswoman Chellie Pingree accepts the Bruce Vento Hope Builder Award from her constituent Lisa Gonneville, a mesothelioma patient, for her co-authorship of a Dear Colleague Letter requesting the NCI to designate mesothelioma as a recalcitrant cancer. The Pioneer Award was presented to Dr. Michele Carbone of the University of Hawaii. Other awards featured in the videos include those for volunteering, compassion, nursing, and philanthropy.
The Meso Foundation's 11th International Symposium on Malignant Mesothelioma was held on March 5-7th in Alexandria, Virginia. Attendees included mesothelioma doctors and researchers from around the world, patients and family members, caregivers, bereaved, and advocates. Aside from scientific and community sessions, the Symposium included an Advocacy Day on Capitol Hill, during which attendees met with their congressional representatives.
Mesothelioma is a malignant tumor of the lining of the lung, abdomen, or heart known to be caused by exposure to asbestos. Medical experts consider it one of the most aggressive and deadly of all cancers. Approximately 3,500 Americans are diagnosed with mesothelioma every year and an estimated one-third were exposed while serving in the Navy or working in shipyards.
ABOUT THE MESOTHELIOMA APPLIED RESEARCH FOUNDATION
The Meso Foundation is the only 501(c)3 non-profit organization dedicated to eradicating mesothelioma and easing the suffering caused by this cancer. The Meso Foundation actively seeks philanthropic support to fund peer-reviewed mesothelioma research; provide patient support services and education; and advocate Congress for increased federal funding for mesothelioma research. The Meso Foundation is the only non-government funder of peer reviewed scientific research to establish effective treatments for mesothelioma and, ultimately, a cure for this extremely aggressive cancer. To date, the Foundation has awarded over $8.7 million to research. More information is available at http://www.curemeso.org.
###