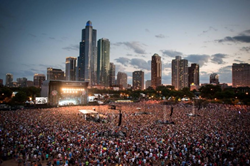 Denver, Colorado (PRWEB) March 29, 2014
Frozen fans can't wait for Chicago's summer heat, fueling the flame for this year's Lollapalooza Festival. Now in its 10th year, the complete 130-band lineup for the three-day festival in Grant Park, Chicago includes headliners Outkast, Calvin Harris, Eminem, Arctic Monkeys, Kings of Leon and Skrillex.
The event runs August 1-3 with the roster listing more than 120 bands and other acts. The performers cover a full range of styles. Straightedge rockers riff with alternative hip-hop groups and electronic experimentalists. Except for Outkast, the headliners have all played Lollapalooza at least once before. In fact, both Eminem and Kings of Leon have headlined in 2011 in 2009 respectively.
Three-day passes to the festival, which drew a capacity crowd last year, went on sale Tuesday morning and sold out within hours. However, tickets are still available on sites such as BuyAnySeat.com
"Lollapalooza tickets have remained at the top of our charts since being released earlier this week," said Marta Ault at online ticket marketplace BuyAnySeat.com. "Lollapalooza, after all, has been one of the best-selling American festivals of the past decade and continues to draw hundreds of thousands of fans every year."
"While three-day passes are officially sold out, tickets are still available," added Ault. "That's why we're proud to offer fans the most comprehensive and continuously refreshed listing of concert tickets online, with a worry-free guarantee to protect their purchase."
"To access the complete selection of Lollapalooza tickets we have available, fans can go to BuyAnySeat.com and search for Lollapalooza – then select their tickets."
A reunited Outkast and the return of headline rapper Eminem to the lineup have both aided ticket sales for this year's festival. Outkast remains one of the most successful hip-hop groups of all time. The duo, consisting of Antwan Patton "Big Boi" and Andre Benjamin "Andre 3000", has won six Grammy awards and is known for bringing to the stage a daring blend of funk, jazz, rock, soul, and spoken word. The two performers had been on hiatus since 2007 while both members pursued their solo careers.
Eminem, meanwhile, is one of the most popular artists of all time. Having sold more than 80 million albums and over 120 million singles worldwide, he is the second best-selling male artist of the Nielsen Soundscan era and the sixth best overall selling artist in the United States, selling 44.91 million albums (Source: Wikipedia).
The 2014 festival marks the 10th anniversary of Lollapalooza's revival. Conceived and created in 1991 by Jane's Addiction singer Perry Farrell as a farewell tour for his band, Lollapalooza ran annually until 1997, and was revived in 2003.
The opening day lineup includes performances from Eminem, Arctic Monkeys, Lorde, Zedd, Interpol, Lykke Li, Portugal. The Man, AFI, and The Kooks.
On Saturday, Aug. 2, Outkast and Calvin Harris will be the final performances of the day. Other acts set to take the stage include Foster the People, Nas, Spoon, The Head and the Heart, Grouplove, Fitz & The Tantrums, and Krewella.
Closing out the main stages on Sunday, Aug. 3 are Kings of Leon and Skrillex. Other artists lined up to play on the last day of Lollapalooza 2014 are Childish Gambino, The Avett Brothers, Cage the Elephant, Young The Giant, and The Airborne Toxic Event.
To shop for discount Lollapalooza tickets, visit BuyAnySeat.com.
About BuyAnySeat.com: An online ticket marketplace, BuyAnySeat.com connects sports, theater and other live entertainment fans to an extensive worldwide network of ticket sellers. The site's simplified listings and navigational tools enable fans to easily locate, compare and purchase inexpensive, discounted or lower-priced tickets to virtually all advertised sports and entertainment events around the globe.
The marketplace, which is PCI-compliant and Norton Secured, also provides customers with a complete Worry-Free Guarantee on all ticket purchases. Based in Denver, Colorado, BuyAnySeat.com is a subsidiary of Denver Media Holdings. For more information, please visit http://buyanyseat.com.