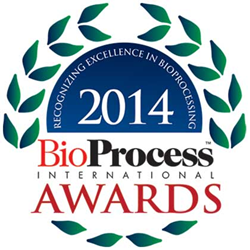 New York, NY (PRWEB) March 31, 2014
BioProcess International (BPI), a business-to-business publication dedicated to delivering cutting-edge information focused on the development and manufacture of biopharmaceuticals and therapeutics, announces the 2014 BioProcess International Awards Dinner and Ceremony will take place in conjunction with the annual BioProcess International event this October at the Hynes Convention Center in Boston.
The award program's mission is to encourage the leaders, scientists, manufacturers, and suppliers to raise the awareness of their individual achievements, collaborations, successful business strategies, social corporate responsibility and technology applications that will allow the industry to deliver better, more effective treatments to a global patient base.
"The decision to hold the awards dinner and ceremony at the Annual BioProcess International Conference & Exhibition allows all of those involved in the industry to engage in an expanded networking setting and gain the exposure at large," said Brian Caine, Publisher of BioProcess International. "In addition, the Boston location is the perfect setting whereas so much innovation is taking place in both industry and academia."
The nominations deadline is June 27, 2014. Awards will be granted recognizing achievements within the following categories:
Individual Achievement
Best Collaboration
Excellence in Leadership
Lifetime Achievement
Excellence in Facility Design or Retrofit
Emerging Company
Corporate Citizenship
Most Effective Licensing or Co-Marketing Collaboration
Best Technology Application - Upstream (user or supplier)
Best Technology Application - Downstream (user or supplier)
Best Technology Application - Analytical (user or supplier)
Editor's Choice Award
About our Sponsors and Industry Partners
Premiere Sponsor:
Rentschler
Industry Partners:
BioProcess Systems Alliance (BPSA)
IBC Life Sciences, Informa Life Sciences
Massachusetts Life Science Center
Women in Bio
About BioProcess International
BioProcess International is part of the T&F Informa BioScience Group, the leading provider of scientific, technological, and business information to the global life science community.
To submit a nomination or request sponsorship information, please visit: http://www.bioprocessintl.com/awards.