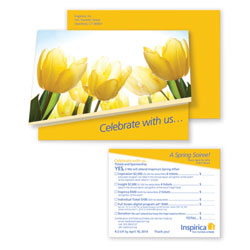 Stamford, CT (PRWEB) March 31, 2014
The spring season is finally here and Inspirica is celebrating it with an upcoming "Spring Soiree".
Inspirica selected TFI Envision, Inc. to develop their "Spring Soiree" event invitation, advertising and event materials.
Not a traditional gala, the Inspirica Spring Soiree is a sophisticated evening of cocktails, hors d'oeuvres and live music at Stamford Old Town Hall, a unique downtown Stamford setting on a traditionally popular 'night out' – Thursday. It allows guests to stop by after work without having to commit to a full evening event.
Delivered in a bright yellow envelope, the invitation reflects the fresh, upbeat tone of the event with a sparkling image of spring with tulips bursting open, set on an angle with a die cut to expose the "Celebrate with us…" copy to draw you inside.
The concept for the event aligns with the renaming and rebranding of Inspirica – to celebrate the successes of the organization and demonstrate to the community and their supporters that they know how to do things differently to effect a positive change.
The event will be on Thursday, April 24, 2014, 5:30 - 7:30 pm. For tickets or more information, go to http://www.inspiricact.org.
The mission of Inspirica is to break the cycle of homelessness by helping people achieve – and maintain – permanent housing and stability in their lives.
SOME FAST FACTS FROM INSPIRICA

51 million people live within 50% of the poverty line in the US.
In Fairfield County, CT, the cost per year to the taxpayer to leave a family homeless and living on the street is $77,200.
The cost to provide housing for an entire family for one week at Inspirica's transitional housing, including beds, food, counseling and necessary supplies is $532.
Since 1975, TFI Envision, Inc. of Norwalk, CT, has specialized in developing strategic design and marketing solutions for branding, packaging, promotion, digital and corporate communications; helping organizations achieve their marketing and communication goals with compelling, consistent messaging that is on brand and on target.