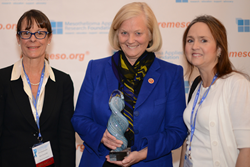 This is an incredible way to help thousands of patients affected by mesothelioma, and also honor our distinguished former board member and Congresswoman McCollum's predecessor, Bruce Vento
Alexandria, VA (PRWEB) March 31, 2014
Earlier this month, the Mesothelioma Applied Research Foundation (Meso Foundation) awarded Congresswomen Betty McCollum and Chellie Pingree the Bruce Vento Hope-Builder Award, for sending a letter to Dr. Harold Varmus, Director of the National Cancer Institute, to urge the National Cancer Institute to further mesothelioma research. The award was presented to the two members of Congress during the 2014 International Symposium on Malignant Mesothelioma taking place in the Washington, DC area on March 5-7.
Congresswoman Pingree attended the event and was presented with the award by her constituent and mesothelioma patient, Lisa Gonneville of Maine.
Last month, U.S. Congresswomen Betty McCollum (D-MN) and Chellie Pingree (D-ME) sent a "Dear Colleague" letter to all members of the U.S. House of Representatives asking them to join them in urging the National Cancer Institute to create a scientific framework for mesothelioma. The Mesothelioma Applied Research Foundation (Meso Foundation) has long advocated for the National Cancer Institute to increase their focus on mesothelioma, and congratulates Representative McCollum and Representative Pingree for their efforts on behalf of the mesothelioma community, including patients and families, physicians, advocates, and researchers dedicated to eradicating the life-ending and vicious effects of mesothelioma.
The idea for this letter began when Representative Pingree's constituent, mesothelioma survivor Lisa Gonneville spoke at the Capitol Hill briefing on Mesothelioma Awareness Day(September 26).
Mrs. Gonneville pleaded that the staffers do something to address this deadly cancer "I've endured all of the treatment options available for mesothelioma, which are very limited," said Mrs. Gonneville, "my only hope at this point is clinical trials." Congresswoman Pingree was so moved by Ms. Gonneville's story that she, too, wanted to help the mesothelioma community in her honor.
"Congresswomen McCollum and Pingree are leading a very important effort for everyone affected by mesothelioma by encouraging the National Cancer Institute to create a scientific framework to progress mesothelioma research," said Meso Foundation's executive director and nurse practitioner, Mary Hesdorffer.
"This is an incredible way to help thousands of patients affected by mesothelioma, and also honor our distinguished former board member and Congresswoman McCollum's predecessor, Bruce Vento."
Bruce Vento, was a prominent member of Congress who, after nearly 24 years of service succumbed to mesothelioma only eight months after diagnosis.
The Recalcitrant Cancer Research Act of 2012 was signed into law by President Obama on January 2, 2013 as part of the National Defense Authorization Act (Public Law No. 112-239), giving the Director of the National Cancer Institute (NCI) the ability to identify recalcitrant cancers for which to establish scientific frameworks that will guide research efforts.
For each recalcitrant cancer, NCI is to convene a working group of both Federal and non-Federal individuals to provide expertise and assistance in developing the scientific framework. The frameworks are to be completed within 18 months of enactment, then submitted to Congress and made publicly available on the HHS website within 30 days. The bill requires the progress of each scientific framework be reported in the National Institutes of Health (NIH) Biennial Report, with an assessment of progress made in improving outcomes for recalcitrant cancers. The bill further states that the NCI Director "shall consider" each relevant scientific framework when making recommendations for exception funding for grant applications.
Mesothelioma is a malignant tumor of the lining of the lung, abdomen, or heart known to be caused by exposure to asbestos. Medical experts consider it one of the most aggressive and deadly of all cancers. Approximately 3,500 Americans are diagnosed with mesothelioma every year and an estimated one-third were exposed while serving in the Navy or working in shipyards.
ABOUT THE MESOTHELIOMA APPLIED RESEARCH FOUNDATION
The Meso Foundation is the only 501(c)3 non-profit organization dedicated to eradicating mesothelioma and easing the suffering caused by this cancer. The Meso Foundation actively seeks philanthropic support to fund peer-reviewed mesothelioma research; provide patient support services and education; and advocate Congress for increased federal funding for mesothelioma research. The Meso Foundation is the only non-government funder of peer reviewed scientific research to establish effective treatments for mesothelioma and, ultimately, a cure for this extremely aggressive cancer. To date, the Foundation has awarded over $8.7 million to research. More information is available at http://www.curemeso.org.
###