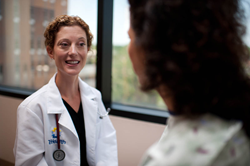 "Women deserve to get the proper care," said Pauls. "These treatments for stress incontinence improve self-esteem and quality of life while being minimally invasive. These surgeries are one of the most gratifying things I get to do."
Cincinnati, OHIO (PRWEB) April 03, 2014
Women need to know that vaginal mesh slings are safe and effective for women with stress urinary incontinence, say three prominent Cincinnati urogynecologists at Cincinnati Urogynecology Associates(CUA), a TriHealth partner.
The group of urogynecologic surgeons is fellowship-trained and specializes in women's pelvic floor disorders. Their expertise and experience enables them to select gold standard medical products and procedures to ensure patients have the best outcomes, said Dr. Rachel N. Pauls, practice partner.
Drs. Pauls, Steven D. Kleeman and Catrina C. Crisp have offices in West Chester; Clifton at Good Samaritan Hospital; TriHealth Fitness and Pavilion in Blue Ash; and Lebanon at Arrow Springs- Bethesda.
They perform surgery for pelvic prolapse, such as a dropped bladder or uterus, and stress urinary incontinence (SUI). Treatments include noninvasive robotic surgery and mesh slings to support the urethra.
Pauls said many women who come in for treatment for SUI are unnecessarily fearful of mesh used in a midurethral sling. This is due to a 2011 Food and Drug Administration report on problems with vaginal mesh products used for pelvic organ prolapse surgery, a different procedure than a midurethral sling. The mesh used for slings has been studied for safety and efficacy for almost two decades, said Crisp.
Each woman's tissues and organs are different, but mesh used for urinary incontinence is a safe product, said Kleeman.
Mesh used during SUI surgery is the width of a shoelace and as thin as a piece of paper.
"People will benefit from being told that mesh slings are safe and very effective in treating stress urinary incontinence," said Pauls. "An FDA safety communication in 2011 was concerned about specific mesh kits for prolapse that have never been used by our practice."
The FDA statements on surgical mesh have not been updated since 2011, when it met with scientific experts about the issue. When asked for comment, FDA spokesperson Cynthia Benson in the Center for Devices and Radiological Health said on March 18 that "all patients are advised to consult their physicians for the best options in their particular cases."
Up to 65 percent of women nationally suffer from some form of incontinence, overactive bladder, or pelvic organ prolapse, with problems increasing after giving birth multiple times or because of the aging process.
A large percentage—11 percent—will require surgery for prolapse or incontinence in their lifetimes, according to multiple reports.
Despite how common pelvic floor disorders are, the average American woman waits seven years before she seeks medical treatment. Cincinnati Urogynecology Associates is trying to improve those statistics through research and education.
Since the 2011 FDA report was made public, the 'mesh issue' has generated a great deal of negative national media attention, said Pauls. Attorneys are promoting their legal services to women through advertisements and misleading information, leading to anxiety for patients.
The American Urogynecologic Society (AUGS) and Society of Urodynamics, Female Pelvic Medicine and Urogenital Reconstruction (SUFU), which represents more than 1,700 practicing physicians, nurses, health care professionals and researchers in female pelvic medicine, were so concerned about the issue that they released a joint position statement supporting mesh slings for urinary incontinence on Jan. 3.
Mesh slings were developed in the early 1990s, according to the AUGS statement, and used to treat stress urinary incontinence, the kind of urinary leakage associated with coughing, sneezing and physical activity.
"We are concerned that the multimedia attention has resulted in confusion, fear, and an unbalanced negative perception regarding the midurethral sling (MUS) as a treatment for SUI," said the paper. "This negative perception is not shared by the medical community and the overwhelming majority of women who have been satisfied with their MUS."
The success rate of incontinence surgery using a mesh sling is about 90 percent nationwide, according to the FDA.
"Women deserve to get the proper care," said Pauls. "These treatments for stress incontinence improve self-esteem and quality of life while being minimally invasive. These surgeries are one of the most gratifying things I get to do."
"Clearly, surgeries for stress incontinence using mesh are overall a great success," said Kleeman. "These surgeries give women their lives back. After surgery, women who have limited their physical activity or social lives for years can now run, walk, laugh and sneeze without discomfort or leakage."
"An unintended consequence of the mesh controversy is that many women may be postponing taking charge of their pelvic health and living with pain, discomfort, fear or embarrassment much longer than they need to," said Crisp. "Women need to know that the right products used by a well-trained pelvic reconstructive surgeon can make a huge difference in their lives."
Pauls and Kleeman were named 2012 and 2013 Mentor of the Year from the 55,000-member American Congress of Obstetricians and Gynecologists (ACOG) for excellence in teaching urogynecology to physicians in training and mentoring them in research. Pauls was also a 2012 Woman of Excellence by the West Chester/Liberty Township Chamber Alliance.
Crisp sits on the advisory board for the TriHealth Hatton Institute for Research and Education and was a finalist for Cincinnati's Forty Under 40 leaders and innovators. All three surgeons engage in medical research and perform non-invasive robotic surgery on patients with pelvic prolapse and incontinence.
"Our patients should be confident that we understand what is safe and are aware of the most cutting-edge techniques," said Pauls. "They can also feel assured that we will take the time to counsel them on all treatment options and answer any questions about slings. A good doctor will counsel you on the right procedure and right products so you have the most successful treatment possible."
For more information about Cincinnati Urogynecology Associates, call (513) 463-4300 or visit http://www.CincinnatiUrogynecology.com.
# # #
More about TriHealth
TriHealth is hospitals, physicians and the community working together to help people live better. We provide clinical, educational, preventive and social programs through Bethesda North, Bethesda Butler, TriHealth Evendale and Good Samaritan hospitals and more than 120 other locations throughout Greater Cincinnati. This includes an ambulatory network, physician practices, research division, employer-based health services, hospice care, and fitness and health facilities. Learn more at trihealth.com, Facebook.com/TriHealth, @TriHealth on Twitter, Pinterest.com/TriHealth and at YouTube.com/TriHealth.