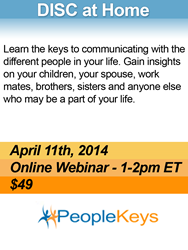 Improving relationships has long been the cornerstone of DISC. In the business arena, that translates to better sales, a more collaborative office environment, improved customer service, and effective management.
Boardman, Ohio (PRWEB) March 29, 2014
Though "behavioral analysis" sounds like a process that belongs in a laboratory, it's actually a technique that major companies have been using in the field for decades. Behavioral analysis is a method of understanding and predicting human behavior, and is used in the corporate world for everything from training, onboarding, hiring, screening, and placement of staff. In fact, Marketwatch currently estimates that 56% of companies use some form of behavioral analysis in the workplace. Many companies might be using these strategies without you even being aware of it.
The theory that informs behavioral analysis was developed in the early part of the 20th century by well-known psychologists like Sigmund Freud and Carl Jung. Now, these techniques have found themselves incorporated into mainstream modern corporate culture. For example, the technique of behavioral analysis called "DISC" is used by big-name companies such as United Airlines, ManPower, Wal-Mart, and more. With DISC, employees are asked to take a short personality test, and the results are then used to produce a graph of their unique personality makeup. From the results of the graph, companies can better understand who has the right personality for a particular job, how the dynamics of a team will play out, how to motivate staff, and how to keep morale and productivity high.
Ohio-based PeopleKeys is no stranger to the importance of behavioral analysis. For over 25 years, they have been developing products to help companies use DISC and other behavioral analysis tools to improve the quality of the workplace. From personality tests to certification courses, they supply DISC products to corporate clients all over the world. This March, they announced a new program designed to bring behavioral analysis to a new audience: the private sector.
On April 11, 2014 at 1pm EST, PeopleKeys will be broadcasting a live webinar designed to show participants how to take the techniques that have long been used in the business world, and apply them to their family. The goal is to show audiences the ways that behavioral analysis can make a positive impact on all of the relationships in their lives, not just those that exist in the workplace.
"We're not necessarily advocating running your home like a business," said webinar developer and PeopleKeys senior coach John Schindell. "But what we are advocating is using the same techniques that have consistently been successful in the corporate arena in a more personal setting. Improving relationships has long been the cornerstone of DISC. In the business arena, that translates to better sales, a more collaborative office environment, improved customer service, and effective management. At home, relationships are just as, if not more so, important. DISC can be used to strengthen relationships at home in as many ways as they are used in the corporate world. Fostering open communication with your family, learning to work together as a family unit, working through conflict, accepting each other's differences, and becoming more empathetic to the needs of the people around you is a huge part of what makes a happy home life. That all can be accomplished with DISC. "
Schindell continued, "DISC is a system that's simple enough for the entire family to understand. Unlike tests like Myers-Briggs, which many users find unnecessarily complicated, DISC outlines four key personality styles. It can be hard to get your thirteen-year-old to process what the difference is between an ENFP and an ISTJ, and what the dynamic between the two might be like. It's hard for many adults, too. With DISC, it's simple. D is Dominant, I is Influencing, S is Steady, and C is Compliant. Even with very little knowledge about DISC, it's possible to intuit what the dynamic would be between a Dominant personality and a Compliant personality. Because the system has a beautiful simplicity to it, it becomes easy to build layers of meaning. How are values determined by your personality type, for example? What about parenting style? Leisure activities? Anything you want to know, DISC can help you achieve perfect clarity."
The DISC at Home webinar is part of the PeopleKeys DISC for the Real World series. Webinars can be accessed live on the day of broadcast, or on demand at any time after the original air date. For more information on DISC at Home, the DISC for the Real World webinar series, or PeopleKeys and their DISC behavioral solutions visit peoplekeys.com.
About PeopleKeys
PeopleKeys has been working in the field of behavioral analysis for over 25 years. Their products use DISC personality testing tools and theories of human behavior to help clients make improvements in their lives—anything from strengthening personal relationships to increasing productivity in the workplace. Product translations are available in a wide variety of languages, making PeopleKeys the international leader for helping individuals unlock their potential. For more information about PeopleKeys and their DISC solutions, please contact Marketing Manager Kaitlyn Miller at 330-599-5580 x113.