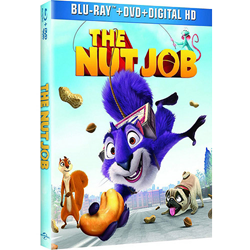 New York, NY (PRWEB) March 31, 2014
Get ready to go nuts for the family movie event of the season! Peanut Butter & Co. and Universal Studios Home Entertainment have partnered to launch a social media promotion around the action-packed squirrelly adventure, The Nut Job, available on Blu-ray Combo Pack including Blu-ray, DVD, & DIGITAL HD with UltraViolet April 15, 2014, from Universal Studios Home Entertainment.
Beginning March 31, Peanut Butter & Co. will kick off a two-week, highly interactive social media campaign to promote The Nut Job. Peanut Butter & Co. fans and followers will be engaged on a variety of social platforms via contest giveaways, with prizes featuring Peanut Butter & Co. peanut butter and The Nut Job Blu-ray Combo Pack. The promotion will also be spotlighted at the Peanut Butter & Co. Sandwich Shop in New York City.
The Nut Job is an action-packed comedy that follows Surly, a mischievous squirrel, who plans a heist to break into the town's biggest nut shop in order to help his pals in the park gather food to survive the winter. Together with his sidekick, Buddy, he assembles a ragtag crew to help him get inside - and takes them on a fun-filled adventure that they'll never forget. Critics are calling The Nut Job "Funny and witty! For kids of all ages!" (Jeffrey Lyons, Lyons Den Radio, WCBS).
"Audiences went nuts over The Nut Job in theaters, and they'll go nuts again when it's on Blu-ray & DVD!" said Lee Zalben, Founder & President of Peanut Butter & Co. "We are thrilled to partner with Universal Studios Home Entertainment to promote this hilarious family film."
Based on the 2005 award-winning comedy short film Surly Squirrel by animation veteran Lepeniotis, The Nut Job marks the Canadian-based ToonBox's first feature film with Korean partner Redrover, in association with Gulfstream Pictures, which handles U.S. sales. Find out more at Facebook.com/TheNutJobMovie and Twitter.com/TheNutJobMovie.
About Peanut Butter & Co.
Peanut Butter & Co. began in 1998 as a cozy little sandwich shop in Greenwich Village, NYC and has since become one of the fastest growing natural/specialty food companies in the US. The company's ten varieties of all natural, flavored peanut butter are available in over 15,000 supermarkets and specialty retailers, and Dark Chocolate Dreams, the company's chocolate flavored peanut butter, is the #1 selling all natural chocolate nut spread in the country (Source: IRI). Peanut Butter & Co.'s products are made exclusively from USA-grown peanuts. Find out more at ilovepeanutbutter.com, Facebook.com/PeanutButterCo, and Twitter.com/PeanutButterCo.
About Universal Studios Home Entertainment
Universal Studios Home Entertainment is a unit of Universal Pictures, a division of Universal Studios (http://www.universalstudios.com). Universal Studios is a part of NBCUniversal, one of the world's leading media and entertainment companies in the development, production, and marketing of entertainment, news, and information to a global audience. NBCUniversal owns and operates a valuable portfolio of news and entertainment television networks, a premier motion picture company, significant television production operations, a leading television stations group, world-renowned theme parks, and a suite of leading Internet-based businesses. NBCUniversal is a subsidiary of Comcast Corporation.
About ToonBox Entertainment
Located in downtown Toronto Canada, ToonBox Entertainment Ltd. brings to life original content for film, television, and interactive media with concepts derived from captivating character designs and storylines. With a team of over 160 highly skilled and dedicated employees using state of the art equipment and innovative stereoscopic technology, ToonBox has the ability to produce Hollywood quality content for an independent production's budget.
ToonBox also works closely with the overseas studio Redrover Co., Ltd. in Korea to produce animation, special effects, compositing and 3D stereoscopic renders. This successful working relationship allows the companies to capitalize on the best of both worlds, amalgamating creative inspiration, direction, and animation expertise.