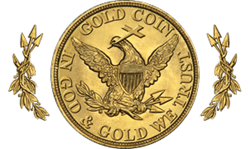 "We appreciate the true value of gold, not just the price," Kelly said.
Fort Worth, TX (PRWEB) March 29, 2014
Texas-based gold coin dealer GoldCoin.net is reporting that the rapid drop in the gold spot price during two consecutive trading sessions in April of last year not only affected clients' portfolios but could have been caused or exacerbated by computerized, or "black box", trades. A March 28 International Business Times article reported that during the trading session on April 12, 2013, more than 1000 different traders took part in exchanges that moved some 2.4 million ounces of gold in less than 10 minutes.
"Humans could not have been behind all of those trades, and the existence of black box trading on Wall Street has been well-documented," said GoldCoin.net spokesman Keith Kelly. "Many of our clients buy gold because they want independence from artificial and manipulated investment markets, and this event proves that we still have some work ahead of us if we are ever going to return to a truly valuable monetary system."
Kelly believes that many gold coin buyers feel safer by having an internationally recognized hard asset on hand. "We appreciate the true value of gold, not just the price," Kelly said. "That doesn't mean we want to see the gold spot price fall because not only would we lose money if we sell but we are losing tremendous amounts of spending power thanks to the U.S. dollar's constant devaluation," he added.
Gold Coin (GoldCoin.net) has over two decades of experience advising household investors on smart physical gold and silver investments and gold coin IRA and 401k plans. They buy and sell all types of precious metals and offer free home delivery. For more information or a free "Gold Coin Starter Kit," visit http://www.goldcoin.net or call 1-800-425-5672 today.