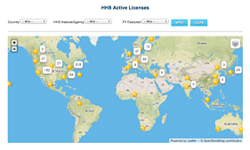 Improving communication is a major component in the overall efforts to increase technology transfer opportunities and to engage with more potential commercial partners.
Chicago, IL (PRWEB) March 31, 2014
Technology transfer is the process of transferring scientific findings and knowledge (e.g. licenses and patents) to other organizations for advancement, continued research and commercialization. Government agencies and higher ed industries who focus on research rely on technology transfer to ensure scientific and technological developments are available to users who can then further develop the technology into new innovations.
Recently, Promet Source rebuilt eRMa, a web-based catalogue intended for licensing of unpatented research materials to for-profit companies from the National Institutes of Health's Office of Technology Transfer (OTT). The catalogue was developed to expedite the licensing process for unpatented research materials to for-profit entities. Promet Source migrated an outdated eRMa website from a Microsoft.NET platform to Drupal. The old site was failing security audits and was not easy for administrators to modify. Additionally, the system needed a maintenance overhaul to improve usability and cost-efficiency. The new eRMa site now has enhanced functionalities (e.g. custom licensing templates) and features (e.g. a licensee dashboard page).
Promet Source contributed highly technical solutions including custom module development and UI/UX optimization for the ecommerce experience to deliver a new site that was more secure and easier to use. Promet updated the website with enhanced functionalities, including LDAP integration, metrics data display, product showcase display, product pipeline display and a licensee locations map. Additionally, Promet streamlined the application process for technology acquisition. The new, online process replaced a manual protocol saving NIH time and money.
When asked about working with technology transfer offices, Jay Uhlinger, Promet Source's Director of Products said, "Improving communication is a major component in the overall efforts to increase technology transfer opportunities and to engage with more potential commercial partners. As technology transfer offices seek ways to develop better web, mobile, and social media tools for this outreach, the necessity to leverage the power and flexibility of open source software solutions such as the Drupal platform will continue to grow and evolve."
Promet Source has a proven track record working with government agencies and higher-ed institutions: the primary organizations who have technology transfer needs. Representative clients include the USDA, NIH, Marquette University and the University of Northern Iowa. While Promet is recognized as a web development leader in these industries, they understand that Offices of Technology Transfer come with their own unique web requirements.
Technology transfer web applications need to incorporate eCommerce, product showcases, research functionality, directory search, data displays, complex data integration, federated authentication controls and much more. Technology transfer is a competitive field; many institutions rely on the income for continued research initiatives. Therefore, the sites need to incorporate marketing including branding, digital presence, UI/UX, and mobility. These types of projects are complex and require customized solutions that are a perfect fit for Promet Source. "Within the industry, Promet is known for being able to tackle the technical challenges that other firms might shy away from," said Andrew Kucharski, Promet's President & Founder. "Offices of Technology Transfer need to make sure they partner with a highly technical development firm who can deliver complex but manageable solutions."
Promet Source will extend its offerings to leading technology transfer offices, labs, and related program websites to provide easier-to-use and more advanced engagement tools to market and communicate their technologies. "Our goal is to continue to assist in this overall initiative of accelerating the technology transfer process by bringing the power of Drupal to help these organizations with faster, cheaper, and more innovative solutions for technology transfer marketing and licensing," said Jay Uhlinger.
Promet's first step in reaching out to the tech transfer industry is exhibiting at the annual meeting of the Federal Laboratory Consortium for Technology Transfer (FLC), April 21-24th. "We look forward to exhibiting the success of our work with NIH's Office of Technology Transfer and understanding how Promet can provide similar solutions to other tech transfer organizations," said Andrew Kucharski.
About Promet Source: Founded in 2003, Promet Source is a leading interactive development firm that implements open source tools (specifically Drupal) to deliver high-value web and mobile application development & support. Promet offers a turn-key solution delivered by experts in the field: sprint 0 planning (Agile concept development), design, architecture, development and deployment. After deployment, Promet provides ongoing support & maintenance. Our consultants have deep technical expertise and are recognized as leaders within the Drupal community. Promet serves clients globally across multiple industries-specializing in government, higher education, non-profits, start-ups, healthcare and professional services.