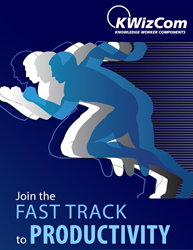 Time-based notifications are required to implement the most common business processes in every company.
Toronto, ON (PRWEB) March 31, 2014
KWizCom, a world renowned provider of SharePoint Forms and Mobile Solutions, as well as other numerous top-notch add-ons designed to expand Microsoft SharePoint, is proud to present SharePoint Notifications Feature. This top-notch add-on enhances the out-of-the-box SharePoint alerts system, improving business processes and increasing productivity.
With KWizCom's Notifications Feature, users and administrators can now easily configure time-based and rule-based SharePoint notifications and get their reminders on time. "Time-based notifications are required to implement the most common business processes in every company," says Nimrod Geva, Product Group Manager of KWizCom. "Examples for common scenarios are notifications on upcoming project deadlines (EPM), billing reminders for outstanding payments (Sales, Billing) and task due-date reminders (Task Management)."
KWizCom's Notifications Feature provides SharePoint users with a wide range of key features and advantages for alert management that are not available in the SharePoint out-of-the-box. Just to name a few:

Define notifications per list/library
Schedule and send recurrent notifications
Choose between on screen and e-mail notifications
Send notifications by email to users outside the organization
Define property-based notification rules
Notification options action menu
Personal notifications web part
Cross browser - IE, Firefox and Google Chrome + multilingual support
Click here to download a no-cost 30 day trial version of Notifications Feature to see how you can equip your users with this powerful alert management tool for SharePoint.
About KWizCom Corporation
Since 2005, KWizCom has provided innovative solutions and services to make SharePoint even better for over 5,000 companies worldwide. KWizCom's solutions and services expand Microsoft SharePoint out-of-the-box capabilities, streamline workflow, maximize efficiency and enhance over-all productivity for hundreds of thousands of users. KWizCom, a Gold Certified Microsoft Partner, is headquartered in Toronto, Canada. Please visit www(dot)kwizcom(dot)com to find out more about KWizCom's clients, people, partners and solutions.