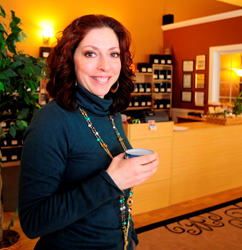 A cup of tea can change your whole outlook.
Williamsburg, Virginia (PRWEB) March 28, 2014
Discover Teas, with a strong online presence and shops located in Williamsburg and Newport News, celebrated the third anniversary of its opening with open houses at both store locations on Saturday, March 15.
The first store, which opened in March 2011, is located in the Village Shops at Kingsmill at 1915 Pocahontas Trail, E-4, Williamsburg. The Newport News store, located at 2170 William Styron Square in Port Warwick, opened in November 2012.
Owner Chris Farishon says she got the idea for the teashop from her own lifelong interest in tea, which she cultivated from years of exposure to multicultural enthusiasts on the West Coast where she grew up. There Japanese, Chinese and other communities incorporate tea into their lifestyle, she says, and she became familiar with the joys of drinking high-quality loose tea.
"I wanted to educate people on the varieties of tea, focusing on the health benefits," she says. "There are hundreds of styles of tea." Farishon invested a lot of time researching the quality, blends, flavors and health properties of tea before opening the Williamsburg store.
"I am passionate about tea," she says. "A cup of tea can change your whole outlook."
The two brick and mortar locations provide one-on-one service to help customers explore teas specifically for their needs and tastes. Guests can purchase tea by the cup to enjoy on the premises in comfortable seating with free WiFi and loose tea by the ounce to brew at home. Also available is a blend-your-own tea bar to create custom blends. Online shopping is available, as well.
Discover Teas has an herbalist on staff to create special blends to address the health needs of customers. "While we are not physicians, teas are known to have health benefits," Farishon says. Some of the house blends include "AnxieTEA," a soothing tea that can help calm frayed nerves and put insomniacs to sleep; "ArthriTEA," for those suffering from arthritis; and "Earthbound Angel," for headaches.
"Unlike drugs that force your body to work the same way as the next person, herbs work with your body chemistry to enhance your health," says Farishon.
Discover Teas maintains a strict commitment to quality and affordable pricing, says Farishon. All teas are handpicked loose teas from around the world. There are no artificial flavors, sweeteners or preservatives in the teas. "We take conscious steps towards ethical, fair, safe, and earth-friendly business practices and making partnerships with those who do the same," says Farishon.
Discover Teas offers a variety of classes and activities at the two locations. They include:

Tea Tasting: 7-8 p.m. Wednesdays, Newport News store;
Introduction to Tea Class: 2-3 p.m. Saturdays, Williamsburg store;
Open Mic Night: 7:30-9 p.m. Thursdays (register at 7 p.m. to participate), Newport News;
Poetry Readings by Poetry on the Square: 7-9 p.m. on the fourth Tuesday of the month, open to everyone, Newport News;
Featured Musicians: at both locations. Check Facebook and website for details.