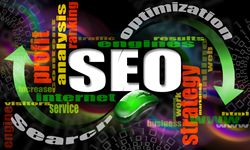 There are a few easy ways to SEO Infusionsoft content to drive traffic to a site.
(PRWEB) March 28, 2014
Infusionsoft content powerhouse GetUSales has just released an informative blog, "How to SEO Infusionsoft Content on Landing Pages and Web Forms." This blog is meant to inform readers of even more great ways to utilize their Infusionsoft content to drive more business to their websites.
Optimize Infusionsoft content in these areas:
Title Tags (Meta Title)
A page's title is one of the most important elements of SEO. The title tells the search engines what is relevant on the landing page, and it also attracts customers when it shows up in bold in their search results.
A title tag needs to be less than 70 characters with one or multiple keywords separated by a bar, but do not use the same keyword multiple times. Using the same keyword more than once looks like spam to both the engines and customers. A title tag might look something like: "Infusionsoft Content | GetUSales."
All pages must have different title tags and the names of the web forms and landing must include keywords that match their title tags.
Meta Descriptions – The gist of the Infusionsoft content in 160 words or less
The meta-description is the blurb that appears under the title on a SERP (search engine ranking page). The description is a chance to put both a call to action and a keyword (which will show up in bold in search results) in front of potential customers. Meta descriptions should be less than 160 characters.Google's description algorithm can create meta-descriptions automatically.
Keywords
Keywords that are typed into the keyword section don't show up in the SERPs, and Google doesn't consider them particularly valuable. However, the other search engines do use them. These keywords should match the ones used in the title tag and meta-description. Do not use more than five keywords or the engines could mark the page as spam.
Content – Of course!
Content has to be optimized to really have some pull in the engines. A 3-5% keyword ratio is ideal, any more than that will look spammy to the engines. Make sure to use keywords in headlines and subheads to show the engines the page's relevancy.
About GetUSales
GetUSales provides Infusionsoft content to businesses all over the world. To learn more or see the campaigns, visit http://www.GetUSales.com or call 855-834-4850.