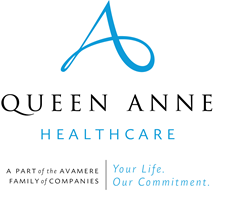 Our mission is to enhance the life of every person we serve.
Seattle, Washington (PRWEB) March 29, 2014
Queen Anne Healthcare (located at 2717 Dexter Ave North Seattle, WA 98109) has a strong record of receiving recognition for the quality of care the staff provides to seniors in the Seattle, Washington area and surrounding communities. Queen Anne Healthcare is also a recipient of an American Health Care Association award for quality and was recognized by Seattle Met Magazine as one of the best places to work in 2013.
U.S. News and World Report's Best Nursing Homes 2014 ratings highlight the top nursing homes out of nearly 16,000 facilities across the country. According to the Centers for Medicare & Medicaid (CMS), about 60 percent of individuals over 65 will require some type of skilled nursing and rehabilitation care services at some point in their life and over 40 percent will require care in a nursing home.
CMS assesses care communities in three categories—health inspections, level of nurse staffing, and quality of care—and gives each an overall rating. U.S. News awarded the "Best Nursing Home" designation to Queen Anne Healthcare because it earned an overall rating of five stars from CMS.
People in the greater Seattle Metro choose Queen Anne Healthcare for post-hospital care. Services provided at the skilled nursing campus include medically complex nursing, physical, occupational, and speech therapy, and transitional care.
"Our mission is to enhance the life of every person we serve," says John Kirk, Administrator for Queen Anne Healthcare. "That mission drives us to provide quality care and services so our patients can obtain a level of independence and comfort."
To learn more about Queen Anne Healthcare, please visit: http://www.queenannehealthcare.com/.
About Avamere Family of Companies
Founded in 1995 and based in Wilsonville, OR, the Avamere Family of Companies began as a single nursing facility in Hillsboro, OR. Today, the Avamere Family is comprised of 41 Independent Living, Assisted Living, and Skilled Nursing facilities, over 6,000 employees, and multiple ancillary healthcare companies – including Infinity Rehab – that provide services including inpatient and outpatient rehabilitation, home care, home health, and hospice.
###
For more information, please contact Drew Hanson at 971-224-2831 or dmhanson(at)avamere(dot)com.