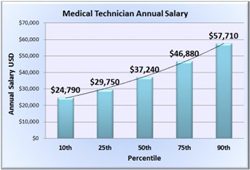 (PRWEB) March 29, 2014
For people who are interested in pursuing a technician salary career, there is a newly made website called TechnicianSalary.org. It features a lot of information on technician careers and aims to be the best resource on the earning potential of careers that people may be interested in. It features a wide range of technician jobs, including broadcast technicians, engineering technicians, and several kinds of medical technicians. The publisher hopes to expand the site more in the future.
The website Technician Salary was made with several goals in mind. First, it seems to be a resource for those who wish to change careers or are just starting their journey in the work force to get a broad sense of whether the salary of a given career is worth it for them to go through training. Second, the site is a resource for those who wish to research job prospects in certain states, since salaries can vary greatly across state lines.
The website has a very clean and straightforward layout. The main page features an attractive chart of each technician career with salary summaries. Those who wish to learn more may click on a particular career to learn more. Individual career pages will show a several detailed salary charts as well as useful information about the career, such as the salary breakdown of all workers in that field in the past. One may also find ample information about the industries and states with the best job prospects. One can also look at job outlook to determine whether a career field is going to be lucrative in the near future. For instance, something with a negative job outlook may not be the best career to get into anytime soon.
The creator had this to say when asked why a site like Technician Salary is useful: "I know lots of people who are often curious about different careers and salaries, but don't know who to ask or where to look. So I wanted to make a website where this information is easily provided and is detailed enough so that by the time a visitor leaves, he or she will have learned all that she wanted to know."
The salary breakdown at 10%, 50%, 90%, and average of all workers in a technician career gives a realistic broad overview of what kinds of earnings to expect now and in the future. The bottom 10% is typically those who are just starting out, are not progressing, or are in locations with low average pay in general. The 90th percentile is basically those who are highly skilled and have many years of experience. They are the innovators and supervisors.
Ample information can be found for salaries across states. For instance, someone in California could want to become a chemical laboratory technician, but is unsure about salaries and job prospects there. The page for that field would show that California is more lucrative than the average state for chemical lab technicians.