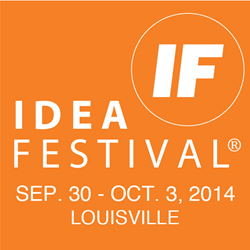 IdeaFestival creates an opening for disruptive change and provides a platform to bring real-world relevance to innovative ideas." Kris Kimel
Louisville, KY (PRWEB) March 31, 2014
IdeaFestival® 2014, a leading celebration for creative thinkers and the intellectually curious, announces that event tickets are now on sale. The Festival boasts numerous speakers and performers who will inspire, entertain and promote the cross-fertilization of ideas and innovation from Sept 30 - Oct 3, at The Kentucky Center for the Performing Arts. Festival Passes are now available at the early bird rate of $350.
This powerful, four-day event brings together an impressive list of emerging and well-known influencers from a variety of disciplines including science, the arts, design, business, film, technology, education and much more – all working towards the convergence and exploration of how ideas shape our future. Initial speakers and influencers announced to date for 2014 include:

Lee Billings, author of the cosmic mystery, Five-Billion Years of Solitude: The Search for Life Among The Stars; journalist, writer for Nature, Nautilus, New Scientist and Scientific American.
Jason Felts, Chief Executive officer of Virgin Produced, the cutting-edge film, television and entertainment division of the British Virgin Group. The company, formed in 2010, designs, recombines, packages and produces new media, films & TV shows under the Virgin brand.
Claudia Hammond, author of the provocative book Time Warp on the fascinating puzzle of time perception; award-winning broadcaster, writer, psychology lecturer; BBC World Service Radio and BBC World News TV presenter.
Debbie Millman, designer, brand consultant for Sterling Brands; radio show host of Design Matters; author and leading thinker on the intersection of creativity, life and design.
Steve Pemberton, divisional vice president and chief diversity officer of Walgreen Company; youth and inclusion advocate.
Tickets for IdeaFestival's annual kick-off day, Thrivals 7.0 - The Quest: Changing the Future for 2035, are also available as an addition to a Festival Pass purchase for only $49. Thrivals is a fun, mind bending, future focused, innovative, leading edge and thought provoking learning experience where humans of all identities are challenged by each other to think about new ideas, rethink old assumptions, build on the minds of others, to become, to do, to understand, to otherwise live this single planetary experience to its fullest. Thrivals sets the tone for the IdeaFestival each year and caters to broad thinkers of all ages with a focus on high school and college students. Thrivals 7.0 will be held on Tuesday, September 30, 2014.
The 3rd Annual IF Water Conference also will be held on Tuesday, September 30th in conjunction with IdeaFestival. Attendees will participate in an interactive day of exhibits, brainstorming discussions, and thought-provoking conversations centered around the Earth's most powerful and precious resource - water. Tickets are available as an addition to a Festival Pass purchase for only $35.
IdeaFestival offers attendees an opportunity to explore diverse ideas and innovations outside their field and gain a renewed sense of wonder and curiosity. The event attracts early adopters and thought leaders who want to be exposed to new ideas and new ways of thinking, such as:

Global, national and local influencers;
Entrepreneurs;
Business and community leaders;
Young professionals; and
Existing thinkers, makers and doers looking to build a new network.
According to IdeaFestival's Founder Kris Kimel, "Reimagining the future depends on big thinking and
breakthrough innovation. IdeaFestival creates an opening for disruptive change."
Please visit ideafestival.com for more information and to buy tickets. Stay Curious!
About IdeaFestival®
Founded in 2000, IdeaFestival® is a celebration for the intellectually curious. It's an eclectic network of global thinkers and one-of-a-kind innovators bound together by an intense curiosity about what is impacting and shaping the future of the arts, business, technology, design, science, philosophy and education.
The content of IdeaFestival is as diverse as the network itself – presentations range from discussions about life before life to the existence of parallel universes; from global politics to the philosophy of randomness; from disruptive innovation to living to be 250 and beyond. In the words of one participant, "At IdeaFestival, seemingly unrelated topics offer surprising relationships and insights."
The conference is held every Fall in Louisville, Kentucky at The Kentucky Center for the Performing Arts, a beautiful and historic venue that houses artworks by such 20th century masters as Joan Miró, Jean Dubuffet, Louise Nevelson, John Chamberlain and Alexander Calder. The setting, thought-provoking sessions and informal tone make IdeaFestival a truly unique experience. Those who attend leave the event with interesting new ideas, a better sense of connectedness, an expanded network of relationships and lasting inspiration to help create change in the world.
Please visit ideafestival.com for more information. Follow us @ideafestival and #IF14.