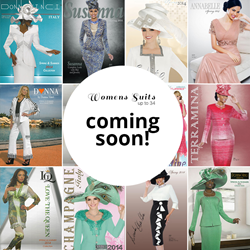 Our inventory is growing by leaps and bounds, and we need a more sophisticated shopping cart website to accommodate that.
Los Angeles, CA (PRWEB) March 28, 2014
UpTo34.com is a major online ladies clothing store that specializes in women's church suits and bridal outfits, formal dresses and festive ensembles for all special occasions. Today UpTo34.com announced that it has contracted with TRIXMEDIA, an online marketing firm and Web developer, to build an extensive new shopping cart website to accommodate UpTo34's growing inventory.
UpTo34's catalog features women's church suits and other festive outfits and formalwear by designers like Annabelle, Nubiano, Susanna, Terramina and Donna Vinci, to name a few. According to James L, UpTo34's founder and owner, "Our inventory is growing by leaps and bounds, and we need a more sophisticated shopping cart website to accommodate that. The people at TRIXMEDIA demonstrated a new shopping cart platform that they developed called 'Goozga,' and we were very impressed."
TRIXMEDIA's proprietary shopping cart platform (touted as "Goozga, the shopping cart with a brain), was developed by TRIXMEDIA founder and CEO, Hirbod Human. "The advantages of Goozga over other shopping cart platforms are too numerous to list here," says Human. But he did list a few for us: "It's dynamic, strong and reliable with multiple layers of functionality to manage any imaginable online shopping scenario. As a licensed service, it comes with a team of coders and Web design specialists to provide all needed maintenance and security updates, as well as training and support for administrators. It has advanced pricing that gives the client the ability to set up multiple pricing rules for different shoppers, locales and products. And, Goozga's "special relationship" with Google Analytics, supplies Goozga businesses more sophisticated data than an ordinary shopping cart website."
"We can't wait to unveil our new Goozga website," says Mr. L, "It should be up and functioning in a week or two. We'll keep you posted."