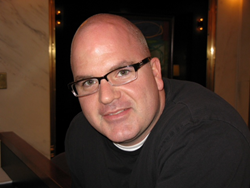 "Retailers need to know how to leverage software to automate their online storefront," says Murrell.
(PRWEB) March 29, 2014
Mark Murrell, CEO of GetMaineLobster.com and owner of BlackPoint Seafood, recently spoke at Seafood Expo North America on the topic of succeeding in online retail seafood sales. His co-presenters included Rose Mulligan, Director of Innovation at Black Point Seafood; Scout Wuerthner, Sales Manager at Inland Seafood; and Brian Mulligan, Governor's Account Executive, State of Maine.
Seafood Expo North America (formerly the International Boston Seafood Show) attracted more than 19,000 buyers and suppliers of fresh, frozen, packaged and value-added seafood products, equipment, and services. Attendees traveled from more than 100 countries to do business at the exposition.
If Boston was not a convenient destination for readers, Murrell now shares some of what he imparted, regarding the rigors of online marketing. Internet businesses go to great lengths to outdo competition – something easily found with a simple search in today's Internet-driven phenomenon of search engine optimization.
"It's easy to graze through various websites, blogs, and e-mail to determine what's hot in consumer trending," says Murrell. "But what's really going on behind the scenes to generate sales and make connections with customers in the impersonal world of the Internet?"
Murrell, owner and founder of GetMaineLobster.com and Black Point Seafood, got to the bottom of this question in his cogent presentation surrounding the details of growing a seafood business with a virtual storefront.
Engaging his audience in tangible scenarios, Murrell balanced instruction with audience interaction while guiding attendees toward an understanding of the following points.
Regarding consumer trends, Murrell advised, "Learn the trends and your place in them. Food is HOT, HOT HOT. Find and understand your target market and go after it."
The trends to which he refers include the recent report from the National Restaurant Association that identified leading consumer trends in restaurants, including the growing demand for locally grown food and sustainable foods.
According to Murrell, the first step is to determine whether or not a business would benefit (or not) from venturing online. If there are advantages, Murrell suggests associating with an identified trend and "riding the wave by showcasing your brand."
"The consumer of today is more aware, demanding and active, and trusts what other people say more than what a brand has to say about itself through advertising," says Murrell. "Brands that court these consumers effectively through digital communication are reaping some rewards."
To Murrell, an essential component of this effort is web technology – tools and techniques that motivate customers to buy.
"Retailers need to know how to leverage software to automate their online storefront," says Murrell.
Finally, Murrell offered that the most important aspect may be fulfillment, offering advice on how to engineer a seamless process of fulfillment to get a business where it needs to go.
It's important that an online retailer feel empowered," says Murrell.
The path to that empowerment includes: the knowledge that customers need to be #1; the dedication to develop solid relationships; the ability to let software do the work; embracing that "data is your friend;" and the ability to follow trends—and to set them.
About Mark Murrell:
Recognized as a leader in the field of Search Engine Marketing, combined with his unique approach and enthusiasm for his work, Mark is often sought after to consult other industries interested in expanding to or increasing visibility on the Internet. His expertise in leveraging the Internet to capture qualified prospects led to the development of unique marketing products and tools that automate sales efforts. Among his many clients are Morton Salt, Motorola, Dominos, Breck Shampoo, and Ovaltine. Additionally, the success of his online food business has led to numerous requests from professionals interested in replicating his online business model.
About GetMaineLobster.com
GetMaineLobster.com, a division of Black Point Seafood and Black Point Gourmet, hand-selects the finest Maine lobster, seafood and beef products for convenient distribution throughout the United States. Their passion is to make fresh, quality seafood readily available to customers across the country, which is why they buy from only the most trusted, well-established suppliers to ensure that they receive the finest products available.
GetMaineLobster.com was selected out of the more than four million small American businesses served by Chase bank to represent its new Platinum Business Checking