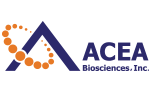 Our intention with this product release is to help our users run more assays, increase discovery, and at the same time save valuable research dollars. - Yama Abassi, Ph.D., Vice President at ACEA
San Diego, CA (PRWEB) March 31, 2014
ACEA Biosciences, Inc. the manufacturer and developer of xCELLigence® Real-Time Cellular Analysis (RTCA) instruments, is excited to announce the global launch of the E-Plate VIEW PET product line which will bring significant cost savings to the users of the xCELLigence® system.
"We are constantly striving to make advances and improvements. Built on the proven performance of ACEA's existing PET Devices such as CIM Plate 16 and E-Plate 384, we are pleased to offer an economical option of PET-based consumable products for our xCELLigence® and iCELLigence™ users," says Yama Abassi, Ph.D., Vice President at ACEA. "Our intention with this product release is to help our users run more assays, increase discovery, and at the same time save valuable research dollars."
These new E-Plate PET consumable products have comparable performance and specifications to the original glass-based E-Plate products. In response to the popularity of the microscopy-compatible E-Plate View product line, these new E-Plate PET products will include default view areas for easy visualization of cells.
About ACEA Biosciences
Founded in 2002, ACEA Biosciences, Inc. (ACEA) is a privately held biotechnology company pioneering in the development and commercialization of high performance, cutting edge cell analysis platforms for life science research. With headquarters in San Diego, CA, ACEA has developed proprietary technology and launched its first product in 2004. Researchers are advancing their studies utilizing 1,000+ placed instruments for broad and diverse applications. The technology has been cited in over 500 peer reviewed publications. ACEA's xCELLigence® and NovoCyte™ systems are used in pre-clinical drug discovery and development, toxicity, safety pharmacology, and basic academic research. For more information visit http://www.aceabio.com.
For further information please contact:
ACEA Biosciences, Inc.
Dr. Leyna Zhao
Phone: +1 858 724 0928 x 3066
Email: lzhao(at)aceabio(dot)com