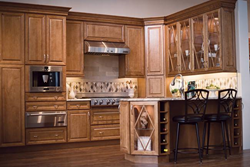 Make a kitchen more spacious with a kitchen remodeling project.
Indianapolis, Indiana (PRWEB) March 31, 2014
What are 3 Kitchen Remodeling Ideas to Create More Spacious Homes?
Holly Denihan of DirectBuy of Indianapolis shared three ways to create a more spacious kitchen.
In an older homes, most of the rooms are closed off from each other. To make the current home have that "open concept" feel, consider walls to the kitchen that can be removed to open up to the family room, dining room or eating areas.
Bulkheads and Soffits were popular in older homes, but do take away from cabinet space and make the kitchen appear smaller. Consult a contractor in order to see if they can be removed to maximize your storage space with cabinets.
A third option would be to consider removing peninsula style kitchens and transforming it to an island for better flow and it will make it seem bigger.
DirectBuy of Indianapolis offers several services to get a higher quality of cabinetry for the same amount of money for the kitchen remodeling project that the big box stores offer at "sale" price.
One of the most valuable services that DirectBuy of Indianapolis offers is their in house kitchen designer, Holly Denihan. Holly has been with DirectBuy of Indianapolis for over seven years, helping members with kitchen designing. She has over 2,000 kitchen designs in her portfolio. She has also contributed "7 Steps to Kitchen Remodeling" on the website KitchenRemodel101.com.
During the first meeting with Holly, a member will bring either the room dimensions or blueprints, their appliance model numbers and their budget.
Holly will give guidance in the cabinet layouts, choosing the door styles, as well as going over finish options and accessories. She will also go over the options for the countertops. Holly will then create a layout of the kitchen in the 20/20 computer software and provide a dimensional look of the new kitchen.
A second great service of DirectBuy of Indianapolis is the savings of 20-50% off of all of the items needed for the kitchen remodeling project. DirectBuy offers over 700 quality manufacturers to its members at manufacturers pricing. Because DirectBuy purchases directly from the manufacturers a member can save 20-50% off of the "sale" price of the big box stores. For a project like a kitchen remodel this could total a lot of money saved.
In addition, DirectBuy of Indianapolis has a referral list of preferred installers. Each installer has been approved by the DirectBuy of Indianapolis service staff, for quality installation and service. This list is shared with all of those who would select to save money with DirectBuy of Indianapolis for their kitchen remodeling project and products.
DirectBuy of Indianapolis invites consumers to a Free Savings Seminar to share details on how DirectBuy of Indianapolis can purchase items at direct manufacturing prices from over 700 suppliers. In many cases consumers find they can purchase higher quality products at lower prices.
Schedule a Free Savings Seminar by calling (317)472-9810 before the end of the year and receive a VIP Package at the time of the visit. DirectBuy of Indianapolis is located at 8450 Westfield Boulevard which is close to the Range Line and Westfield Boulevard intersection. This is located just west of the Keystone Fashion Mall.