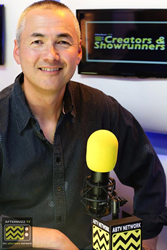 "Sometimes there's one season, sometimes they run for ten...Could [Helix] run for multiple seasons? Yes!"
Los Angeles, CA (PRWEB) March 29, 2014
Maeda exclusively revealed cast confirmations for Helix Season 2  "We just got word yesterday about the pickup," said Maeda. "So we don't know exactly for sure to what extent that everyone's going to be in. We know that we have Billy [Campbell], and we have Kyra [Zagorsky], and we have Mark [Ghanime] all signed up for the next season."
After spending all season in the Arctic circle, the show's scope expands to Paris in the season's final moments. However, Maeda cautions fans not to expect a globe-hopping second season. "We really liked the claustrophobic thriller very much, and thought that that worked well for us," Maeda said. "We really love the one day at a time progression of episodes. I think that that's something that we're going to try and utilize to the best of our ability. We're never going to be World War Z...there may be global concerns now, because obviously, there's been an outbreak in Lares, Puerto Rico, and things are happening...Our stories are personal, and they're smaller scale, but still have these big twists and turns."
Maeda made a reveal that Season Two viewers should expect to learn more about the origin of The 500, a mysterious race of immortals who were secretly trying to release the Narvik virus and kill millions of people. "We almost did it this season. We almost did the origin story, and ironically, it worked out great for us because...I'm glad we didn't do it, because there's a great discussion to be had. But the reason we didn't do it was because of money. You know, the first thing that production said was, "You want to do what? No!"
Maeda also discussed the betrayal of Peter Farragut (played by Neil Napier). "It was very late in the process...In a way, we're positioning him as the new Balleseros. Not to say that we're going to get rid of the old Balleseros, but we're positioning him in that role in the series...Initially, he was a guy who had a secret, then all of a sudden, oh my God, he kills Doreen, everyone hates him, and then we started to kind of like, just very slowly tug him back toward humanizing him."
With a second season renewal under his belt, Maeda is thinking about the future of the show. "It's very hard to know [how many seasons it will last], and I'm sure if you asked Carlton [Cuse] and Damon [Lindelof], or asked Vince [Gilligan] how long your show's going to run, you don't really know in the beginning. sometimes there's one season, sometimes they run for ten...Could it run for multiple seasons? Yes!"
Maeda went on to discuss his career at length with the AfterBuzz TV team, including his working relationship with Breaking Bad creator Vince Gilligan when they wrote on The X-Files. "Vince, I think I mentioned to you guys before, one of the top 3 or 4 writers I've ever worked with," Maeda said. "...Vince used to rewrite us like crazy, I was one of the younger writers on the show and I'd get a script back, like, oh my god, what has he done? And then you'd read it and you'd go, oh, oh that's really great. Ok, that's wonderful. And so, the rewrite was savage but it was also really smart and, at times, much better."
Links to Steve Maeda's appearance can be found on AfterBuzz TV's website or on ITunes or YouTube:
Website - http://site.afterbuzztv.com/shows/steven-maeda-interview-afterbuzz-tvs-creators-showrunners/
YouTube - https://www.youtube.com/watch?v=QWnLTx_NfwE&list=PL6THzna6gLccsYjp_scu8ONnhYehUibG1
iTunes - https://itunes.apple.com/us/podcast/helix-afterbuzz-tv-aftershow/id796869476?mt=2
AfterBuzz TV broadcasts worldwide from Los Angeles, CA as part of Extra's Maria Menounos and filmmaker Keven Undergaro's online broadcast network, AfterBuzz TV. AfterBuzz TV is the largest pure broadcast network online, with a weekly audience of over 26 million listeners and viewers in over 100 countries.