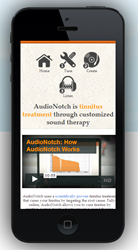 "After months of development work, AudioNotch is now available on mobile platforms worldwide"-Adrian Green, CTO, AudioNotch
Toronto, Ontario (PRWEB) March 31, 2014
AudioNotch is now pleased to announce that its tinnitus treatment service is now accessible through a mobile-friendly web-based user interface. Users logging into AudioNotch through a compatible mobile web browser will have access to the software's functionality, including tinnitus pitch detection as well as the creation of both Notched Natural Sounds and Notched White Noise. Customized sound therapy can be played from within the browser as well, providing cross-platform functionality without the need of a customized native application.
AudioNotch is the world's leading provider of on-line tinnitus sound therapy. Providing experimentally grounded, affordable tinnitus treatment worldwide, AudioNotch has served thousands of patients by providing accessible Tailor-Made Notched Sound Therapy. Although cloud-based, this software was previously only available through a desktop operating browser. Users had to manually download their Notched Sound Therapy onto mobile devices such as tablets, MP3 players, or smartphones. With the completion of recent development work, this is no longer the case.
AudioNotch continues to make advance in providing accessible, affordable and up-to-date software for helping tinnitus patients treat the root cause of their tinnitus. Over a sustained period of weeks to months, listening to AudioNotch's customized sound therapy can reduce the volume of a user's tinnitus. For more information, visit the AudioNotch F.A.Q.