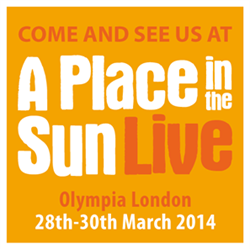 Those considering moving to Turkey should seriously think about acting now rather than procrastinating until a later date.
(PRWEB UK) 30 March 2014
The annual event attracts the top overseas property vendors representing the world's most sought-after locations. Visitors include those looking to invest in property abroad either for retiral purposes or to pick up an investment property (and in many cases, both).
Oceanwide Properties will be showcasing the very top Turkey properties from their portfolio in the popular and breath-taking resort areas of Fethiye, Antalya and Side, as well as contemporary apartments in Istanbul where the company opened an office earlier this year.
MD of Oceanwide Properties Suleyman Akbay said: "A Place in the Sun Live really is the place to be for those looking to invest abroad. That's because they will have the opportunity to meet vendors face-to-face and discover where the best opportunities currently lie in the country of their choice. Not only that but they will also be able to get direct answers to all the questions they need to ask when it comes to making such a big financial commitment as buying a property abroad.
"For others for whom a property abroad is still a bit of a distant dream, they can listen in on a series of seminars which will provide them with the necessary facts in order to discern whether their dream of moving and living in a foreign country really could become a reality."
The Oceanwide Properties team will be located at Stand B53 in the hall and welcome queries relating to Turkey property investing from visitors to the exhibition. More than 150 exhibitors are expected to appear in Olympia, representing a large variety of countries. As well as Turkey, European estate agents from Italy, Spain, France will be in attendance alongside America and Caribbean outfits. Properties for viewing range from £20,000 up to £2 million.
Last year's exhibition proved extremely successful for Oceanwide Properties (who have offices in both Turkey and London, England) after the team returned to Turkey with contact information from a number of interested individuals, couples and families, not just from the UK but further afield too.
"Those considering moving to Turkey should seriously think about acting now rather than procrastinating until a later date," added Mr Akbay. "And the reason for this is the excellent exchange rate for UK and other European citizens right at this moment in time.
"Turkish property is selling for far less than it has in recent years so in terms of value for money, now is the time to jump at what's out there on offer – certainly before the exchange rate in Turkey improves."
Also present at the Exhibition will be presenters from the popular TV show A Place in the Sun, including Amanda Lamb, Laura Hamilton, Jasmine Harman and Jonnie Irwin.
They will be answering visitors' questions alongside other leading figures in the overseas property industry via the Panel of Experts seminars. These are expected to touch on such issues as legal matters, currency, culture and the actual buying process itself.
More information on buying a property in Turkey can be found at Oceanwide Properties Turkey.