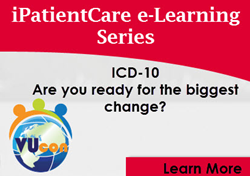 "iPatientCare as a vendor has grown so large and built a formidable national presence because of its vision to engage and involve users as active stakeholders in R&D", Udayan K. Mandavia, President/CEO, iPatientCare.
Woodbridge, NJ (PRWEB) March 31, 2014
iPatientCare, Inc., a pioneer in mHealth and cloud based ambulatory EHR, integrated Practice Management and Patient Portal solutions announced a session on using ICD-10 Coding within iPatientCare EHR and Billing System as part of the iPatientCare 2014 eLearning Series.
iPatientCare EHR and Practice Management is "ICD-10 Ready", and hence, iPatientCare users can, in fact, start learning, getting acquainted, and capturing ICD-10 Codes along with ICD-9 Codes today! iPatientCare 2014 eLearning Series is organized by iPatientCare User Group as part of the Virtual User Conference.
"Holding a Virtual User Conference (VUCON) has become a tradition within iPatientCare community. The eLearning Series differs from the VUCON in terms of the focus of the subject areas. Our Knowledge Management Committee of the iPatientCare User Group prepares more focused and interactive learning modules; followed by nationwide user participation, opportunities for Q&A, online tests/quizzes, and piloting software builds before they are released. iPatientCare as a vendor has grown so large and built a formidable national presence because of its vision to engage and involve users as active stakeholders in R&D", said Udayan Mandavia, President/CEO, iPatientCare.
Viral Khetani, Coordinator, iPatientCare ICD-10 Task Force and Sean Pandya, Chair, Knowledge Management Committee added, "iPatientCare VUCON scheduled on April 24, 2014, would host the first interactive learning session of the 2014 eLearning Series. iPatientCare users would be trained on using the ICD-10 ready software release, focusing on documenting clinical assessment, capturing charges, preparing claims, and clinical and billing decision support using ICD-10 coding. This eLearning session would also provide an opportunity to interested users in "test-driving" dual coding capabilities of the Meaningful Use certified iPatientCare EHR and Practice Management System."
About iPatientCare:
iPatientCare, Inc. is a privately held medical informatics company based at Woodbridge, New Jersey. The company is known for its pioneering contribution to mHealth and Cloud based unified product suite that include Electronic Health/Medical Record and integrated Practice Management/Billing System, Patient Portal/PHR, Health Information Exchange (HIE), and mobile point-of-care solutions that serve the ambulatory, acute/sub acute, emergency and home health market segments.
iPatientCare EHR 2014 (2.0) has received 2014 Edition Ambulatory Complete EHR certification by ICSA Labs, an Office of the National Coordinator-Authorized Certification Body (ONC-ACB), in accordance with the applicable eligible professional certification criteria adopted by the Secretary of Health and Human Services (HHS).
Full certification details can be found at ONC Certified Health IT Product List.
The ONC 2014 Edition criteria support both Stage 1 and 2 Meaningful Use measures required to qualify eligible providers and hospitals for funding under the American Recovery and Reinvestment Act (ARRA).
iPatientCare's ONC 2014 Edition Meaningful Use Stage 2 Certified Complete EHR is also Designated as a Test EHR by CMS.
The company has won numerous awards for its EHR technology and is recognized as an innovator in the field, being a pioneer to offer an EHR technology on a handheld device, an innovative First Responder technology to the US Army for its Theatre Medical Information System, the first to offer a Cloud based EHR product. iPatientCare is recognized as one of the best EHR and Integrated PM System for small and medium sized physicians' offices; has been awarded most number of industry Awards; and has been recognized as a preferred/MU partner by numerous Regional Extension Centers (REC), hospitals/health systems, and academies.
Visit http://www.iPatientCare.com for more information.
Contact:
iPatientCare, Inc.
One Woodbridge Center, Suite 812, Woodbridge, New Jersey 07095
Phone: 800-741-0981 | Fax: 732.676.7667 | Email: info@ipatientcare.com