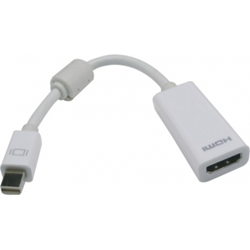 (PRWEB) March 30, 2014
Recently, Hiconn Electronics, the well-known electronics accessory factory, has released its new versions of Mini DisplayPort to HDMI Adapters. In addition to that, the company has also decided to launch a big sale for these high end adapters.
Hiconn Electronics is known to supply all kinds of durable electronics accessories. Its products are popular for nice looks, secure raw materials, excellent performance and acceptable prices. What's more, the company also provides great online service and effective transport service. It has gained a good market response since it announced its first collection of Mini DisplayPort to HDMI Adapters. This is why it strives to make more high end adapters.
The followings are some details about its new Mini DisplayPort to HDMI Adapters:

Compliant with DisplayPort specification 1.1a for both 1.62 Gbps and 2.7 Gbps
Support full DisplayPort link tracking
Support resolutions up to 1920 x 1200 pixels and HDTV resolutions up to 1080p
Compliant with HDMI specification up to 2.25Gbps
Support deep sleep mode (suspend mode)
Support VGA, SVGA, XGA, SXGA, and UXGA at 162 MHz pixel rate
HDTV: 480i, 576i, 480p, 576p, 1080i and 1080p
This time, what the company provides is over 2000 brand new Mini DisplayPort to HDMI Adapter. Still, it is trying its best to create more. All its adapters are outstanding in the market; the new adapter selection is no exception. Also, the company seizes every opportunity to bring benefits for worldwide distributors.
About Hiconn Electronics
Hiconn Electronics (Shenzhen Hiconn Electronics Co. Ltd.) is devoted to designing and manufacturing a wide range of connection cables and customized cable assemblies, offering many HDMI cables, VGA cables, SATA cables, USB cables, 1394 cables, DVI cables, SCSI (Small Computer System Interface) and more. For more information, please visit http://www.hiconn.net/.
Contact Person: James Yin (Sales Director)
Company Name: Shenzhen Hiconn Electronics Co., Ltd.
Address: Shenghua Building., Xixiang Road., Baoan District, Shenzhen, Guangdong Province, China
Zip Code: 518102
Tel: +86-755-8109 8345
Fax:+86-755-2779 3497