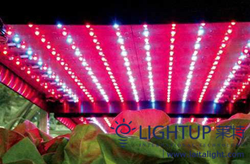 (PRWEB) March 29, 2014
With the increase of population, plant food is becoming scarce. LIGHTUP LED, a well-known LED light company, has recently introduced its new LED wall washing light collection and some new findings to its clients worldwide.
The company has recently made an experiment in which 15 pieces of 6W LED wash lights are used to replace sunshine to help finish plant photosynthesis. They drew a conclusion that their LED wall washing lights can play a similar role as the sun in plant photosynthesis. The plant growth time can be shortened by 1/3. For example, some vegetables can be harvested in 5 days instead of the original time as long as 5 days.
"Natural light time is limited, which has greatly affected the plant growth. Our experiment proves that LED wash lights can help increase the production of plants. As a result, they are the necessary product in the process of modernization," a senior engineer of the company says.
He has also talked about some benefits of the LED wash lights, saying, "People can save much money by reducing the maintenance costs of constantly replacing bulbs. Our LED wall washer lights come with a lifespan up to 50,000 hours. In addition, we have just updated our product catalog, and people can find many new designs of LED lights there."
About LIGHTUP LED
With over 8 years' experience in the LED industry, LIGHTUP LED (Zhongshan Guzhen LIGHTUP International Technology Co., Ltd.) is a specialized manufacturer and retailer of high-end LED lights. The company is located in Guzhen, the "Silicon Valley" of China's LED industry. They focus on the R&D and manufacturing all types of LED lights. Great product quality, premium customer service and competitive pricing are the reasons for many customers worldwide to choose LIGHTUP LED.
For more details about LED wall washing lights from LIGHTUP LED, please visit http://www.laitalight.com/Products/led-wall-washer.html.