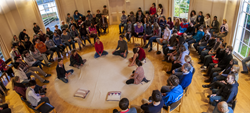 "Brockwood has been a pioneer in British education in so many ways, not the least in its use of stillness or mindfulness, years before these entered the educational mainstream." Anthony Seldon, Master of Wellington College.
Winchester, Hampshire (PRWEB UK) 30 March 2014
The growing interest in mindfulness in education does not take Brockwood Park School by surprise. Since opening its doors 45 years ago, the international boarding school in Hampshire has given space within the curriculum daily to 'sitting quietly'. The 10-minute quiet Morning Meeting starting the day is optional, but the Morning Assembly, which follows shortly afterwards, is for all staff and students and always ends with 5 minutes or more of silence. Giving importance to self-reflection is central to the School's intentions and is supported by these periods of silence.
Brockwood's approach to silence is very different though from the mindfulness programmes proving popular in other schools. Bill Taylor, Development Director and a former Head of Brockwood, explains: "We do not give emphasis to technique, visualisation or breathing exercises, and sitting quietly occurs within the context of a school committed to enquiry and understanding oneself." Students attend Brockwood from more than 25 countries, but nationality and race are unimportant and the school has an air of freedom and responsibility about it. While it stopped offering GCSEs more than a decade ago, most students choose to do AS and A Levels before leaving to go to university.
Founded by the radical philosopher and educator, Jiddu Krishnamurti, Brockwood is an example of how children can flourish in a non-competitive, non-pressurised environment and still manage well in adult life. The school has always sought to question norms and mainstream thinking, as Anthony Seldon, Master of Wellington College, recently wrote: 'Brockwood has been a pioneer in British education in so many ways, not the least in its use of stillness or mindfulness, years before these entered the educational mainstream. The focus on enquiry and active learning is another area where the school has been in the vanguard of educational thinking.'