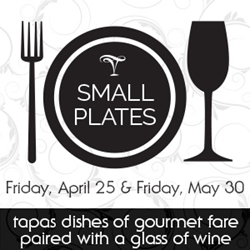 Leelanau Peninsula, Michigan (PRWEB) March 30, 2014
The Leelanau Peninsula Wine Trail reintroduces Small Plates, a once-wildly popular series of upscale wine and food pairings along the trail. This event is being hosted twice this spring on Friday, April 25 and Friday, May 30. Participants enjoy a full glass of wine paired with a well-presented and substantial tapas dish in the tasting rooms or vineyards of participating wineries.
Many of the wineries work with local chefs to prepare and serve the pairing, offering an ultimate food and wine experience, catering to culinary aficionados.
Seatings at each location are available at 6:00 p.m., 7:00 p.m., and 8:00 p.m.; seatings are $15 each and one, two or three seatings can be selected for each evening.
On April 25, the following wineries are serving the following options:
Black Star Farms: Locally raised smoked duck and Black Star Farms house-made cherry sausage with celeriac dumplings and duck consommé paired with 2011 Arcturos Pinot Noir
Ciccone Vineyards: Beef Spiedine (Sirloin cut beef rolls stuffed with breadcrumbs, pine nuts, raisins, cheese and cured prosciutto) and Luganega Sausage (Pepe Nero Signature dish, a traditional Italian Mild Pork Sausage) paired with 2012 Pinot Noir
45 North Vineyard and Winery: Yummy, seasonal Fish Stew prepared by the Cooks' House paired with a vertical tasting of 2012 Pinot Gris and not-yet-released 2013 Pinot Gris
Gill's Pier Vineyard and Winery: A delicious food pairing and a bite of dessert created by Michael Krenzke of Francisco's Market of Traverse City paired with Gill's Pier's Just Unleashed and Whitewater wines
Laurentide Winery: Delicious Tomatillo Shrimp on Rice paired with Sauvignon Blanc
Verterra Winery: Short Rib Champignon paired with a side-by-side comparison of 2011 Pinot Noir and 2012 Pinot Noir
This event joins the strong spring program for the Leelanau Peninsula Wine Trail, which already includes the annual Spring Sip & Savor event, known to sell out every year. Online tickets and more information about this and all trail events is available at at http://www.lpwines.com.
The Leelanau Peninsula Vintners Association (LPVA) is a member-driven, winery association founded in 1998. The mission of the LPVA is to help spread the word about all the good things happening along the Leelanau Peninsula Wine Trail. The region's cool-climate wines pair well with food and have been winning an increasing number of national and international awards each and every year. The Leelanau Peninsula Wine Trail offers world-class wine touring experiences that are garnering national attention.