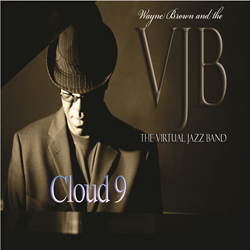 "We had a dream and through adversity, the power of music and friendship allows us to share this dream with the world." - Wayne Brown
(PRWEB) March 31, 2014
Wayne formed the Virtual Jazz Band with a clear goal in mind. He wanted to bring together musicians and singers from diverse musical backgrounds that had a common love for Jazz. There is an underlying message of hope, healing and friendship that is attached to this project. Wayne had decided to re-record the tune "Goodbye Stranger" (which was a hit back in the 80's) as an instrumental that features Nigel Scott on flute who had been injured in a tragic motorcycle accident back in 1999. They had reconnected after 13 years, finding that the music they shared together many years prior was used as a source in Nigel's miraculous healing.
"We had a dream and through adversity, the power of music and friendship allows us to share this dream with the world. What better place to share this than The Jazz network Worldwide. Many thanks to Jaijai Jackson."
Wayne has collaborated with a wide and diverse array of artists as both a writer and producer including Billy Ocean, Ruby Turner, Earth Wind and Fire, Junior Giscombe, Stevie Winwood, Jonathan Butler, George Michael, Janet Kay, Lulu, Yazz and many more, and played with jazz greats such as Coleman Hawkins and Tal Farlow.
Wayne studied Jazz at the prestigious Leeds College of Music. After his time at the College he delved into the mainstream music world and went on to sell several million records as a writer and producer with his international top 5 hits "Heartache" and "Goodbye Stranger".
The first album "The Jazz Club Volume 1" received international critical acclaim with great support from radio opening doors to performances throughout Europe and the USA.
Back in 2010 Wayne was appointed Artistic Director and Chairman of the jury for the Bucharest International Jazz competition which enabled him to meet a wealth of talented young musicians from around the globe.
"Wayne Brown brings a wonderful essence of cohesive grooves that make you rock in your chair coupled with a funky rhythmic interplay with a solid foundation that keeps you hooked. "Goodbye Stranger" is a true testament that strong friendships can lift you higher than you can imagine, especially when music is shared and messages are embroidered throughout" says Jaijai Jackson of The Jazz Network Worldwide.
"Cloud 9" is set to be released the first week of April and can be purchased at http://www.virtualjazzband.com/#!store/c1lbt. Be sure to check out Wayne Brown's feature on The Jazz Network Worldwide at http://www.thejazznetworkworldwide.com. To learn more go to Wayne's official website at http://www.virtualjazzband.com.