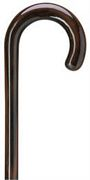 Orlando, Florida (PRWEB) March 30, 2014
Walking-Canes.Net has just added an area to the website on educational resources about walking canes. The stories are based on interesting facts about walking canes and sticks. The information involves the medical side of using a cane as well as what type of cane might meet the user's needs. The articles are meant to help educate the user on the types and styles available in the market today. The more information the user has the better the decision making process becomes.
The latest article added involves Wooden Walking Cane Styles and Designs. The story covers the styles of wooden canes and which type might be best. Wooden Canes come with many different types of handles. The most popular two are the derby and the crook handle. Wooden canes also come in knob, ergonomic, or fancy inlaid designer handles. Wooden canes also offer fashion as well as function to the user.
Wood and aluminum are the two most popular materials to choose from. The aluminum canes come in many bright beautiful colors that make a statement about fashion. Many of the aluminum style canes are adjustable so the user can adjust the stick to the height required. The wood canes offer many options on color and types of wood and need to be cut to size. Many craftsmen have spent a lifetime mastering the art of making and creating a walking cane that is unique and interesting. Look at the hand carved canes and see the designs they offer. One of the most popular sticks offered are the hand crafted dog breed canes.
Take a look at the stories written around the history of walking canes. The selection of items offered are extensive today and one is sure to find a walking cane or hiking stick that meets the needs of the user. Call toll free at 1-888-928-1774 for questions or orders.